I was so busy late Feb. & early March I just didn't have time to post what I was working on in my scrapping. I'm also catching up on posts of those creations now.
I joined ACOT's scrapping community a couple of years ago and I've been a devoted participant and customer since then. I have been so inspired by all of the Creative Team and loving community. A few months after I signed up I went back and saw an annoucement about the up coming NSD Crop in 2009 on the upcoming weekend. Needless to say my first online crop was kind of confusing to say the least. But I became hooked!!! I mean really hooked. I've not missed one since. Some I've gotten the present to be left alone for the weekend and then other times I've had to peek in and out with chores at the ranch. This crop was one of those with very little time! I completed two Fast Scraps and one Challenge. I also played a few games along the way.
The first one was to make a bookmark. And typical of me in a hurry to complete in an hour I didn't totally grasp the rules for the bookmark. I was suppose to personalize it. Whoops! But I think I will use it on one of my wedding album layouts!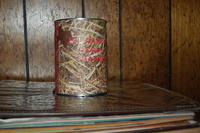 The next Fast Scrap was to alter a can. I had the perfect coffee can for the job.
Karenscraps
gave me the idea to make a piggy bank for my husband to place his spare change in......and of course make it a piggy bank for me to buy more scrap goodies from you guessed it
ACOT
, LOL! I'm actually still not done with it! Gotta love using only scraps for these fun challenges!
I would have loved to have had time to work on more of the challenges for the crop as they were some of the best challenges
ACOT
Creative Team has put together for a crop. I was to draw inspiration from the posted collage for
Challenge #2.
A number of ladies drew their inspiration directly from the photo and did a blocked layout. I saw the birds on the tea cups, the ferris wheel and the clock.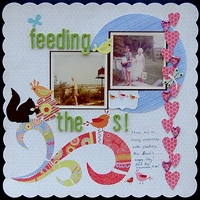 I had been working on heritage layouts and it brought me back in time to feeding the birds everyday with my grandmother. Funny how what grandmother's do tend to stay with someone. I love feeding birds at the ranch whether it is my chickens who bug me at feeding time and have a tendency to follow me around anyway or sitting on the porch and watching the finches and hummingbirds feeding on the feeders. In fact two nights ago we had sandwiches for dinner, a make your own night. James made his then stated matter of factly that a sandwich only tastes good when cut in triangles....LOL! My mother and his great-grandmother would do this for the kids when they were little. I would do it when they were sick and make butterflies with the triangles. And of course in this layout is James and Lynn's great-grandmother. I've known for years when I become a grandmother those beautiful butterfly sandwiches will grace my grandchildren's plate.