Last weekend I got into my kit since I just love the colors and papers I chose. In the Spring of 2012 I was in College Station on a weekend and decided to stop in Bryan to photograph the Brazos County Courthouse. Much to my chagrin it was undergoing some renovation. So I decided to take just one photograph. I printed it about six months ago and never took a really good look at the photo until I pulled it to scrap. WOW....there before me in the mirrored glass is the crane and clouds. How cool!
I took the option to pull some white cardstock. I should have taken the photo outside so it wouldn't have turned the color of blue it did. Some mist, some bubble wrap and ink set my background and the rest came really quickly.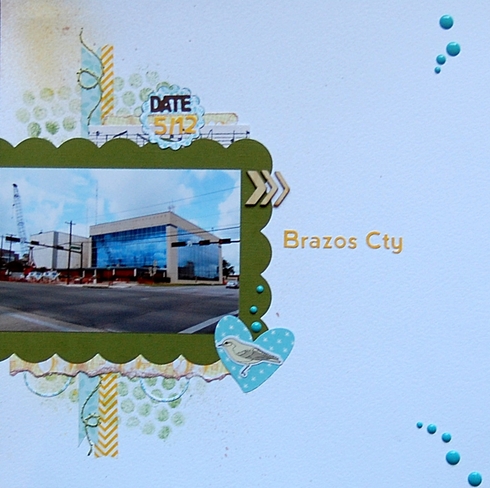 Stop by and see some amazing work by the design team and those who participate at Counterfeit Kit Challenge Blog via Mr. Linky's Widget!