I literally have been very absent! I've been working on a variety of projects through November, December and the first part of January. On top of that Larry's Uncle went to be with the Lord on Jan. 1st. Rough start to the New Year for our family.

Just one more little item, I'll be once again changing my blog name in the next week! The current one is just too long. I've decided on 'A Rancher's Scrapbook'.
November and December were taken up with four mini albums as presents for family members.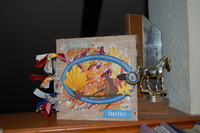 I finished the Basic Grey Calendar for Larry's office at our Oilfield Business. This was may favorite page in the calendar! Love love that wonderful man I call my soul mate and husband!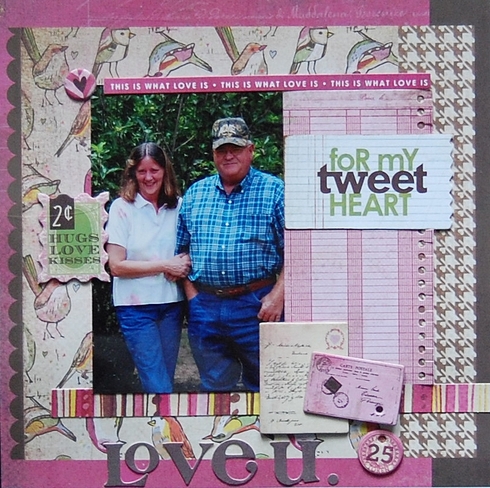 Then on to scrap a couple of layouts with a patriotic theme. All those from Texas or visitors to our state recognize this statue on I-45 of Sam Houston: Governor of Tennessee, General of Texas Army who defeated Santa Anna at the Battle of San Jacinto, Republic of Texas First President, served Tennessee as a US Representative and served Texas as an US Senator. These photos were taken by my daughter in 1995 when the visitor center was being built.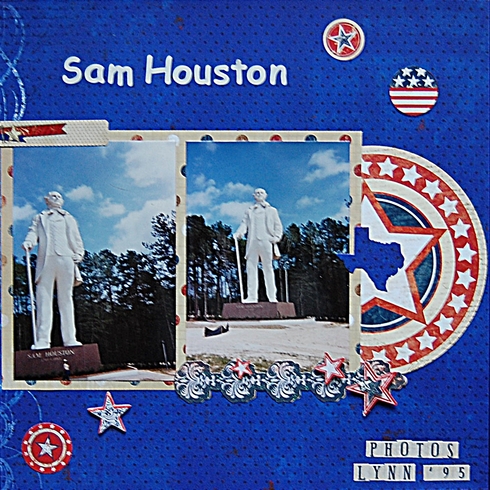 The next layout is a photo taken on the 200th Anniversary of our nation. I was in Maine for five weeks with my grandmother. Mom being a beautiful seamstress decided to make a period costume which would match her Appaloosa. Exactly what was going on in our neighborhood, I am not really sure.


My last layout is my cover page for my Project Life Album. No the colors don't nessacarily go together but they do for me and what I wanted to convey which is subjects near and dear to my heart: Family and Family Heritage, our Ranch and History (Texas Courthouses & Discovering where Family lived )! Yes, I found Santa locked in the Limestone County Courthouse on Christmas Day! Whoops....did Santa finish his rounds and decide to rest here before returning to the North Pole? This month is catch up time for Project Life!!! Hope you'll read the journaling and maybe it will be a little clearer why the photos are a mix mash of topics.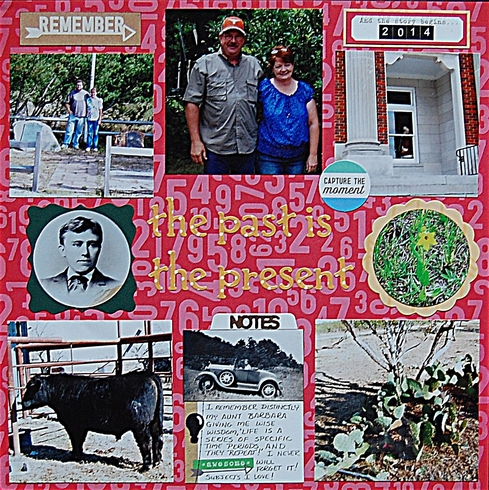 I am also entering the above layout in the Elle's Studio January 15th Challenge to do a multi photograph layout!
Until next time!