Introducing Belle, my first Arabian and a professional photo taken of her in 1986 at Rinconada Arabians in Albuquerque, NM. She was there to be bred to Nabiel. For
Challenge #4
of ACOT's Fall Crop I had to do a layout about myself. There is no journaling I can put on this layout, the simple "MY SOUL" describes it all! To read more about this layout you can visit
here
.
I haven't really scrapped much in the last six months. I do not know why but this month I have cranked out six layouts. Maybe because of
ACOT's
fall crop at the beginning of the month. As I started layout number 7 my Mojo came to a screeching halt. It has been almost two weeks and looked back at the challenge I was working on after deciding to set it aside for a week, but the layout should have been hidden. Then maybe it wouldn't have been taunting me. ;-) The challenge was the
November 2010 Monthly Sketch Challenge
at ACOT. Sketches are easy for me, maybe it was my choice to use the sketch with a single photo that caused that lack of MOJO! Any way I took a look at that sketch and the light bulb is on. So my goal is to make sure I get it done so I have time to do the Manufacturer's Challenge with Sassafras Lass products, arrival of those should be Tuesday! Then Wednesday my Basic Grey Curio and the first day Fed Ex Delivers after Thanksgiving should be October Afternoon Modern Woman and Cosmos Cricket Circa 1934. Yep, I went hog wild this past week! I'm actually impatiently waiting for Black Friday. I've
never
shopped on Black Friday, I hate crowds while shopping. But this coming Black Friday I'm hoping to find some irresistible goodies at ACOT. All from the comfort of home, family around and no crowds! Then I get to relax the rest of the month working on Christmas Presents and a layout here and there.
What have I created this month? Some layouts I love!
This was a labor of love, the second layout I did of my father since his death in 2005. When I posted it to my facebook wedding album a friend commented, 'Beautiful! Sometimes I think it's better to wait to do certain scrapbooks until the time is right. Yours will be so much richer after you've had time to reflect on everything.' Thank you, Sally! This was for the Fast Scrap #5 during the
ACOT Fall Crop

.
One had to use a definition of a word on the layout!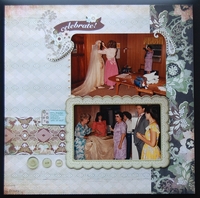 I have since done a couple of other layouts for my wedding album. One of my Matron of Honor, myself and my mother. And the bottom all the wonderful people who helped and supported me while getting ready! It was my entry for
Challenge #7
(Turkey Dinner Recipe Layout) during the ACOT Crop. One had to choose what they wanted from a list ahead of the deadline what they would have for Thanksgiving dinner. Then the list was matched with what had to be on the layout or card.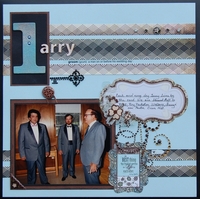 This one of my loving husband of 24 years with his Best Man and our Pastor. I often laugh now when I think of Larry not having anything to do with the wedding other then the 'We will be married in Denson Springs.' I had no input on the church at all. And at the time it was not worth an argument. 24 years later, I love the fact we were married there! I did this for the Scraplift the
ACOT November GCT Challenge
.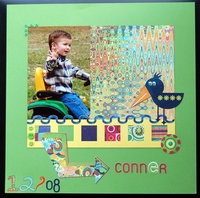 I never stay within one album any more. I love to switch! The next layout I did for our Family Album. I've been scrapping my Larry's Brother's family during the Holidays in 2008. And my great-nephew is absolutely adorable and begged for me to use Basic Grey Lime Rickey! This was for
Challenge #3
during ACOT's Fall Crop. We had to contact another board member and find out their favorite color which in her case was green and then add some bling! When the crop was over I won this challenge, and with it a ten dollar Gift Certificate! Whoo Hooo saving it for Black Friday!
My final layout is one I loved doing. It ties in my love of three things: my husband, my life on the ranch and scrapbooking. Simple layout because life is simple on the farm. It is the layout I did for
Challenge # 2
Ad Challenge. You had to use photos forming a 1,2,3 sequence as in the ad. Perfect for this series of photos!
As always I'm hoping to become better at blogging, we'll see!