I have had a month of being frustrated with each and every single layout. What pops in my head has just not worked and they have sat and sat on my desk. Finally I get Counterfeit Kit Challenge Blog Challenge #1 done today! Sat on my desk a full 9 days before solving my issues with it! Now done I am absolutely thrilled with it!
Winters in Texas certainly are not like northern areas of our country. Although you can have a relatively warm day in January within just a few hours it can be snowing or more likely an ice storm. This winter it was in the Top 5 coldest winters for Central Texas. On this day I took these pictures it was in the upper 60's and a delightful January day. As evening came in there were scattered thunderstorms to the west. And when this happens with blow off from storms over 50 miles away we get some GREAT Sunsets! I only had my phone with me and took seven pictures to make sure one would be decent!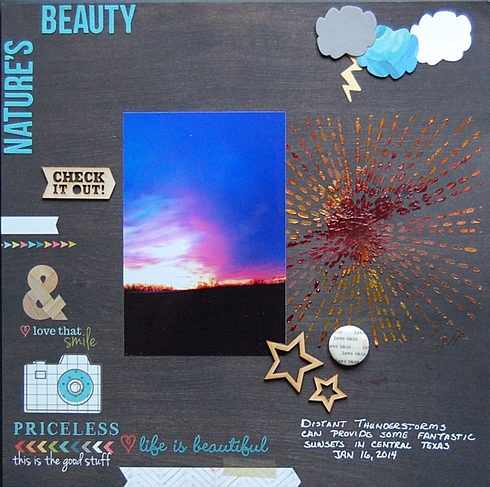 Using the same kit I put together I created the only other series of photos and choose one from each subject to create the entry I call my CKCB Layout #1. The only layout this month I had no problems putting together but frustrated with finding the right pocket page. These were the only pictures I took in January this year. I chose to use Elle's Studio papers to create the layout with embellishments from Studio Calico and Fancy Pants. I like to keep things simple on my PL pages to get them done quickly. A Jillibean Soup Wise Word "Today" fit perfectly.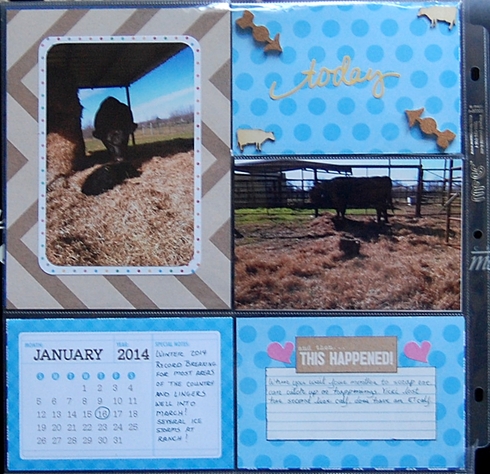 The photos taken a few hours before the above photo is of two different cows on our farm with their bull calf in front of them. It may be hard for you to see the calf in the right hand photo but if you look at the cow's front legs you'll see the calf and his little right ear in front of mom's legs. There is a reason why I didn't try to shift around and get better photos. Cows can be very protective of their newborns. We have some that I wouldn't have ever gotten as close to these two cows to get photos as it would have been way too dangerous. The rule of thumb though with a youngster is keep the calf between you and the cow. She won't run over her calf unless rage has set in. Even the cow on the left who is a past show heifer and still loves attention, I wouldn't trust with a ten foot pole with her newborn two days old. Both calves are bull calves.
Then four months later and so much has happened in the story of these two babies. The cow on the left lost her calf in early March. Our daughter searched the pasture for two days looking for her calf. She found his carcass. Chances are it was a coyote that got her calf. She's not a particularly bright animal. She has done something to loose two calves in two years. We think she laid down on her first calf at three days of age which typically kills a newborn and isn't that uncommon. We do have a third calf from this cow born this year via embryo transfer in Dec. A really beautiful heifer with her surrogate mother a Longhorn. Longhorns are GREAT mothers! I know of no better mother's in beef cattle then a Longhorn and definitely will protect their calves even to the point of jeopardizing their own safety. One of those mom's I wouldn't get within 50 feet of her newborn and 25 feet when they are 2-6 months old.
The calf on the right had a rough start to life. It isn't uncommon in cattle to have problems for any number of reasons at birth. In the case of this calf he got his head stuck up in between two bones in the spinal column of his mother. Took my daughter four hours to find a vet to come out and pull the calf. At the point the vet got him out the cow had been in labor seven hours. And usually you have a dead calf. Not this boy....the vet was stunned and so was my daughter to see his flank rising and falling once he was on the ground. Immediate attention given to him to make sure he would continue to breathe. Also a quick check of his front legs to be sure they weren't broken as he had a hard pull. As such he has been called Miracle Man ever since. This past Friday the second group of cattle we AI'd (Artificial Inseminated) included this cow. Our reproductive technician found her reproductive tract too torn up for her to ever have a calf again let alone ever have the ability to get pregnant again. This means after weaning she will be culled from the heard and become hamburger in the freezer. Yet her genetics look to have a good chance to be passed on by Miracle Man. He's got the conformation and growth rate we want in our calves. He still has to have his DNA sample pulled to see what his carcass traits are as well as keep showing the needed growth up until 18 months and then pass a reproductive exam. Typically out of 75-80 bull calves we have a year only 1-5 of those will make the cut to become bulls by 18 months. At any point in the evaluation process they can become steers and either go into our freezer or to our restaurant. As a result of our over demanding criteria for a bull we have a waiting list for our bulls we sell. It shows our bulls we grow are that good! And they are not cheap to purchase!
Stay tuned to tomorrow's post for more weather pics I promised to do on a layout that won't get done!
Until next time!