I've diligently been working on minis as presents for Christmas. Tired of that I switched Sunday to working on a layout for Sketch Thursday at Elle's Studio Blog! It's Celebrate December at Elle's Studio Blog and the projects the design team is creating are amazing!!! So much so I broke down and ordered Noel Papers and a few other items from the line. As an economist it's fun to see how a blog can push the consumer to purchase! Hopefully my package will arrive in time for me to have some fun with it for this week's sketch! I honestly don't know why I purchased the line as I have way to many Christmas Goodies in my existing stash and not enough photos to scrap and use up the papers. I really think it was the papers with the snow that took me in because I have this great photo of Belle, one of our German Shorthair Pointers, in the snow. Yes you heard right: SNOW. One of those rare occasions we get snow at the ranch. Plus, Elle's Studio products are just soooooo much fun to work with!!!
I love love the layout I created using this
sketch
:
My layout is a photo of my son James on the left and one of his best friends Robert on the right. James asked me in the Fall of 2009 to go to new student orientation at University of Houston. I was amazed at how much the campus had change as I not been on campus since high school, mid 70's. The young men were having such a good time playing to my cell phone camera in front of one of the large number of sculptures on campus.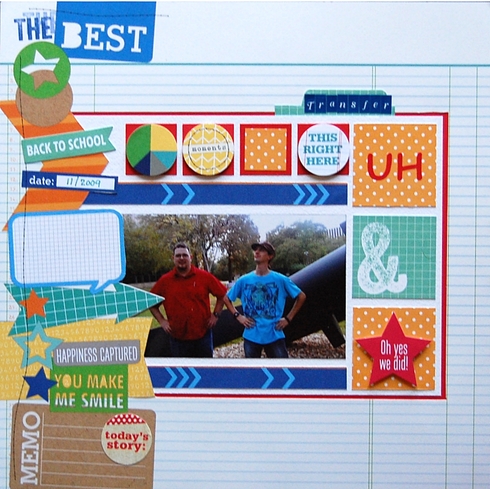 I scrap James' photos for him. This layout he really really liked and it will go in his scrapbook. There are still three more to scrap. Mom will eventually scrap the same four photos for herself.
And just one more plug for this great Texas Tier 1 University!!! Case Keenum, starting quarterback for the Houston Texans is a graduate of University of Houston. What a joy it was to watch Case during the 2011 season take the UH Cougars to a winning season! A product of Coach Sumlin, now coaching at Texas A&M. He is such a great quarterback to watch work his magic, over 300 yards passing in his last game...sadly one the Texans lost.
James is still in school at UofH and Robert has since transferred to UT-El Paso because his fiance is in med school there.
Until next time.