This weekend will host the first winter storm to come into Texas. No problems but rain for the upper coast and unbelievable humidity which will make it feel a whole lot colder in Houston area then North Texas this weekend. Looks like I-20 north will be an ice storm. At the ranch it's one of those things where the weatherman is covering his backside. If they get a sure enough ice storm the weatherman has covered his backside. And if they do it still won't be that bad as temps jump into low to mid 40's, ice gone each morning. Since I did the first layout of buildings surrounding the courthouse and was thinking about what to write on my blog.....wonder what Throckmorton will look like....ice, ice and more ice. Sigh......I'm glad I'm not in North Texas this weekend. I'm holding down fort in Houston area home. Probably won't even turn on the heat.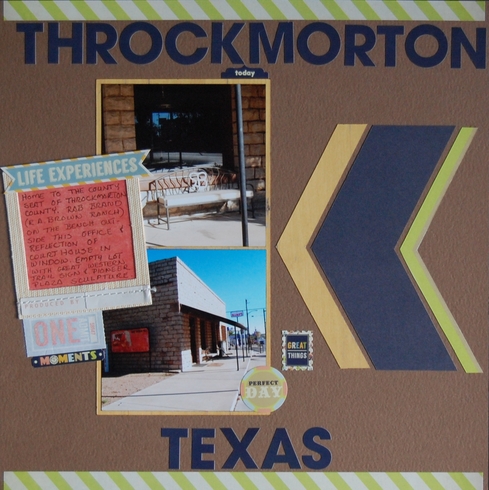 So here's the park bench I talked about in Pioneer Life post. RAB Brand..... and around the corner the Sign in Pioneer Plaza (where sculpture is) that pays tribute to early Cattle Ranching in Texas and the
Great Western Cattle Trail
. It is Layout #3 this month for me. Now to do a card next for CKCB!!! Just as soon as I relax from stressing over my mini covers......sigh! Once again trying to figure out how this Cottage Cutz die will work and I don't have enough paper to waste on this the covers!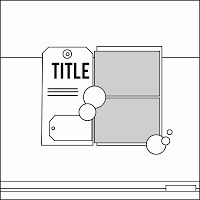 This was the sketch that inspired me and one I found on Pinterest. Now to give credit where due....this one took a little time to find the how and why. Posted on
Dearly Dee Blog
in the UK and then one can trace it to a layout by
Marcie Penner
for Basic Grey. Kind of fun to see where I got to with this layout. I do want to use the sketch again and hold a little more to the sketch.