This evening Larry and I celebrate 29 years ago at the stroke of Midnight he asked for my hand in marrage! Time definitely just keeps flying! We spend our time at home on this evening!
For the last day of 2014 still taking a break from the mini album I have two layouts on the table. I have one of James' photos that brings back memories that always made people laugh! When I printed James' photos to scrap for him I died laughing and decided to wait for the right line to scrap it with and the right inspiration. I found it yesterday going through the Scrapbook Challenges website, Sketch #347.
The line I chose to do this layout is Basic Grey Highline! I just purchased this stencil which will work perfectly using a little Gesso and Art Anthology Dimensional Paints!
The second layout on the table is a photos of the Throckmorton County Veterens Memorial on the County Courthouse Grounds using Bo Bunny Liberty and Anthem as well as maybe a tidbit of Monte Paper Mill Patriots line.
Yesterday I finished and entered my layout in the A Cherry on Top's Becky Fleck Sketch Challenge #84. Awesome Sketch!
I took lots of liberty on this sketch!!! I used a single 4x6 photo a 4x6 envelope and one of those darling 7 Gypsies ATC File Folders instead of three photos! Since it the layout has a frame I decide to build my own frame instead of the way the sketch frames the focal point! I love love the result!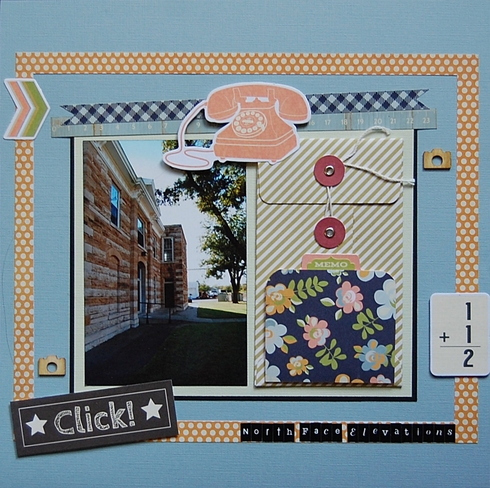 The photo is of the North Face Elevations of Throckmorton County Courthouse pre-restoration, with the courthouse empty awaiting start of renvovation. It will be interesting to return and photograph the courthouse! I have been following the renovation and the project just thrills me to watch the process!
Before
After
The cupola was on the courthouse when originally built and how wonderful it is returned to this beautiful structure!
My wish is you have a Blessed New Year!