WOW! WHAT A SHOW AND SALE!
I have been recovering all week after spending five days from early morning to night at the show and another four days spending a partial day at the show to keep the electronics up and running for American Lowline Registry Booth in the International Room. How I wish I had the energy of my daughter's age again. I've spent the last three days in recovery mode!
International Lowline Angus Sale was a huge success with just over $173,000 dollars worth of cattle sold. The high selliing lot was MRG Rusty to a syndicate for $27,500. Rusty is the 2012 Candian National Champion Bull, 2013 National Senior Division Champion Bull at the National Western and 2013 International Grand Champion Bull at HLSR. We were absolutely thrilled! In 2012 Flying J&L Ranch and Rocking B Farms purchased a semen interest in the bull and when Rusty sold we are a part of the syndicate.
We would like to thank BF Farms and 7C Lowline Cattle for the purchase of our Lot # 24 Embryos, 4 Exportable Embryos Elandra Park Zoom x Sunset Vicky 913W. This lot of embryos sold for $4800 tying the high selling price of $1200/embryo. As promised Zoom HAS BECOME THE NEWEST HOTTEST IMPORT BULL! Vicky's bloodline has become even more valuable with her maternal brother's MRG Rusty's International Champion win and syndication! Vicky is open and ready to flush should you be interested to any of our bulls except Zoom. We have other superior heifers and cows ready to flush. Please remember we protect our customers with only flushing to our bulls one time to maintain value of the offspring to their owners. We guarantee one live calf from each flush, too.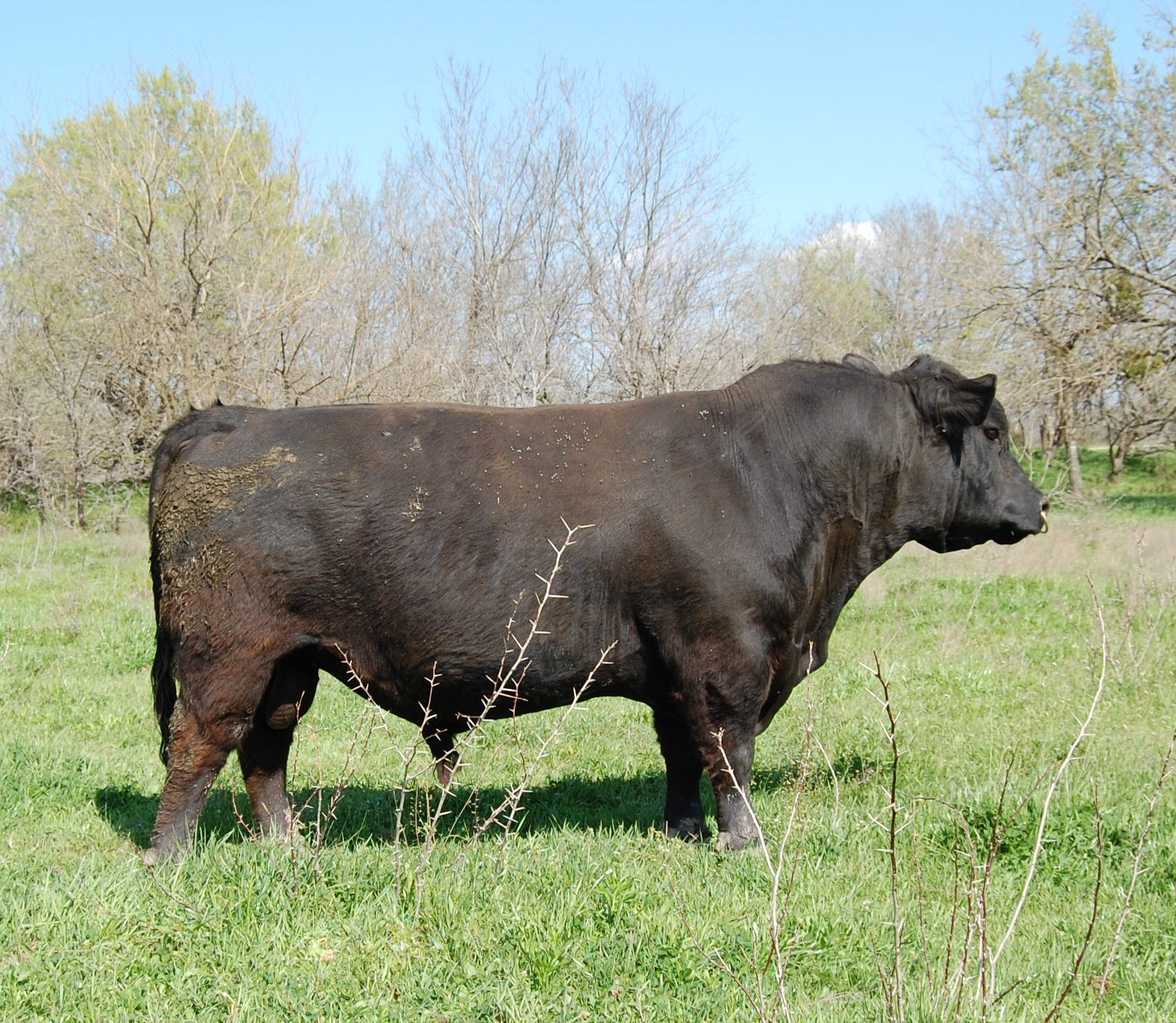 The International Show was extremely competitive and we are so excited to announce the wins in the Senior Heifer Calf Division of Miss FJL Tinker Bell 15/28Y as International Senior Heifer Calf Champion and Miss FJL Mathilda 13 was named International Senior Heifer Calf Reserve Champion. Both of these beautiful heifers are sired by LTL Peyton, our Foundation Bull shown above. Peyton is noted for siring pretty and consistently producing look alike offspring. We will be purchasing their photos next week and I'll post a whole page dedicated to their wins.
Trends seem to be very evident this year in the overall improvement of the cattle being shown in the ring. There is a distinct increase in size to the upper limit of the Breed Standard as it should be in my opinion on Fullbloods. There is also a distinct increase in width and depth of the cattle as should be in my opinion of the Fullbloods. The Percentage Cattle classes are showing a more distinct pretty picture with pedigrees showing an increase use of Club Calf influence. For the show ring this is a great thing. On the farm producing meat not such a good thing in my opinion. I do think in my opinion the influence of Club Calf Sires allows for a distinct advantage for show steers and heifers with Lowline influence to compete in the show ring for kids who wish to show. This is terrific addition to marketability for percentage Lowlines.
Overall the International Show was a huge success for the Lowlines. The International Sale can now claim to be one of the top two Lowline Sales in the nation, the other the National Sale held at the National Western Livestock Show. The International Sale led the way on averages in all categories between the two sales. Congratulations to Jeff Canterbury Sale Manager and Auctioneer along with Larry, my husband, who is Sale Committee Chair for Southwest Lowline Angus Breeders Assoc. on a terrific sale. I'm sure breeders will continue to consign their very best to this sale! Be there in 2014 for the excitement this sale offers!