There was a post on message board I am active on that asked for you opinion of what were your favorite Top 10 Creations for the year. Since I wrote my response I wish I could have added more.
I thought I would post my favorites from 2013 today and my thoughts!
I think I will start with the two courthouses I worked on this past year and still working on!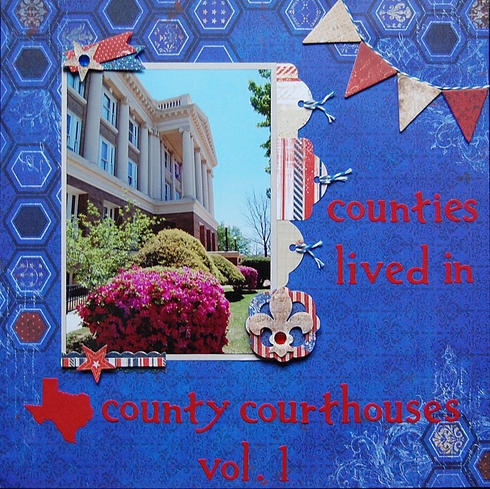 I have enough layouts in the first of many albums that I needed a title page for the album even though I still need to completely photograph three of the five counties I have lived in. So far to date I think this is the best photo I have taken of a courthouse I have photographed. I've only photographed or partially photographed 18 courthouse and six or seven I need to return to because of renovation work. This is Anderson County County Courthouse. I know the pink azalea doesn't match the papers!!! But....Texas' official colors are red, white and blue!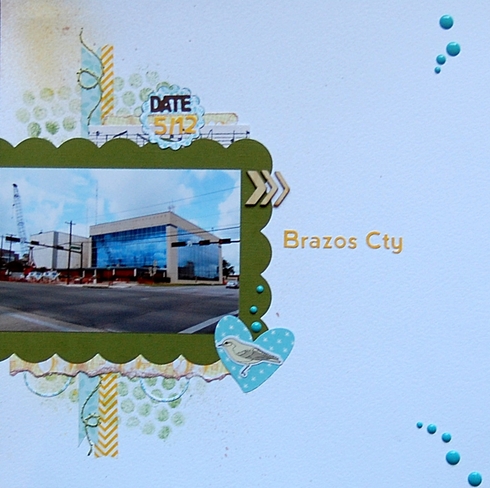 If my mind serves me correctly this was a layout I did after putting together a kit for CKCB. Older stuff and really wanting to add just a hint of mixed media application. This Brazos County Courthouse. The only photo I took and I took several to make sure one turned out well. Since ;under construction I will return probably this summer on a Sunday morning since the Bryan/College Station area is a zoo!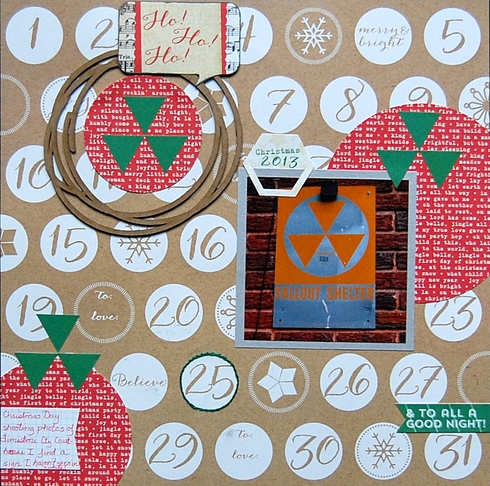 For this photo I got kind of warped in my thinking trying to be humorous. I asked Larry to take me down to the courthouse on Christmas Day, 2013. Actually I was hoping to find a nativity scene! Sadly not but Van Zandt County did in 2013 and Houston County had one this year. Both counties with suits brought against them. Van Zandt won their lawsuit and the State of Texas will help with the suit brought against Houston County. Honestly I am tired of the "intolerance" crap that goes with religion in this country. Get over being offended people.....I am never offended by your practice or lack of practice of religion. What I am offended by is your treading on the Constitution! And true atheists and agnostics are benevolent people who don't tread on other's belief systems! 'Nuff said on my politics.
I did find something though not often seen today but so much a part of my childhood. A fallout shelter sign! It was fun to scrap it alone! Oh....and the other thing I found at the courthouse.....yep on Christmas Day somebody locked Santa in the Courthouse. I wonder if Santa got in trouble and was waiting on a judge? Stay tuned for that layout!!! Maybe sometime this year!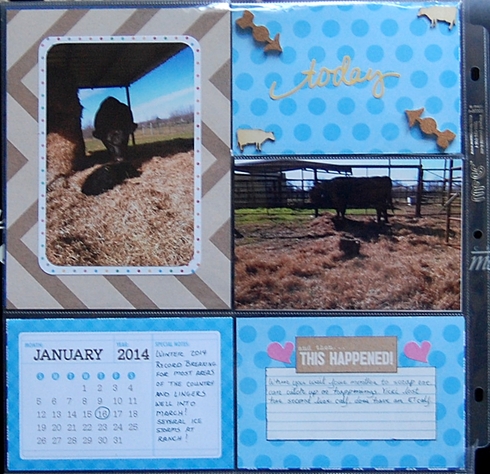 I also started to scrap Project Life last year. Once I ran out of photos in March I didn't print any more. I have no idea why....just didn't but I love how fast it is and how I proved I could keep up! Once I get done with the mini I plan to catch up! I wasn't a big picture taker this past year either! And so far not this year either!
Of all the photos I scrapped for the Life Photo Display at Mom's Birthday this was my favorite one and made the list of Top Ten!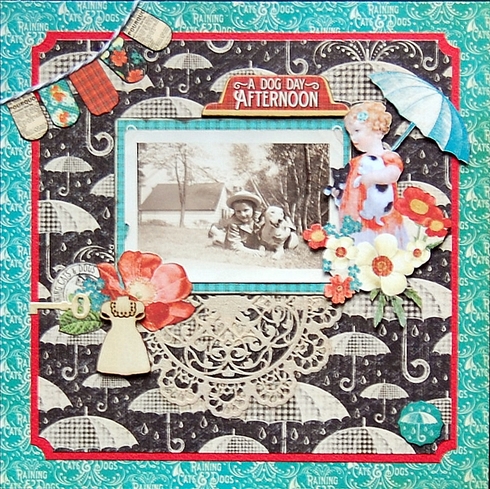 This is an 8x8 layout which was just an amazing work in my mind. I do not often fussy cut except G45! There is so much goodness to fussy cut in Raining Cats and Dogs! On top of that the Prima wood veneer matches the dress the little one is wearing on paper!!!
This is the last one I will share and it too, made my Top 10. I just love it!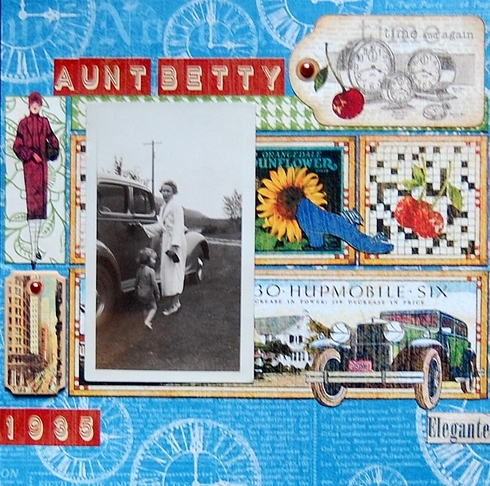 Most of the layouts I did for Mom's party were 8x8 and this one was, too! I loved what few papers I had purchased when the original Times Nouveau came out and had just scraps left! It was also my first papers from G45. With the Collector's Edition it was a given and must have! I will probably regret not buying two!!! As I scrapped this photo of my Great Aunt and Mother I was stunned to see what I saw between papers and photo. The car in the photo has the exact same styling in the photograph! My Aunt Betty's coat almost the same styling as the model to left of photo. How sweet to have 1930's period specific papers to go with a late 1935 photo! Love it!!!
Until next time!