I started out the year like gang busters on Blogging! Then it all came to a screeching halt on the 9th! Larry had a gall bladder attack and spent a week in the hospital! I spent all but one night with him. On morning #2 I awoke with a sore throat and headed straight to the doctor. The hospital's greatest number of patients were there for #1 Pneumonia and #2 the Flu! Even though I had no fever my doctor gave me a round of really high powered antibiotics because of my now living at the hospital. In the last couple of days I have finally gotten over that bug! Larry is doing fine and will find out today when his surgeon will schedule his gall bladder surgery.
Just before this all happened I applied for SBC - Scrapbook Challenges Design Team! Whoop! I made it! There are some fantastic creativity flowing in this group of ladies! It has been a lot of fun getting to know the ladies who are on the team! So stop by and have some fun with the terrific sketches and challenges Brynn creates!
I love love that I have spent every spare minute at my table this month! I am still working on the Kathy Orta mini album, Also included are my design team work and Larry's Christmas Present is just about done, the Basic Grey Calendar!
I pulled my Counterfeit Kit Challenge January Kit to create my first two layouts for SBC! The second layout will be shared on a later post next month. Sketch #425 was right up my alley and loved working on some older photos! My show steer my Senior year FFA Project along with a couple of other friends with their steers! Dirty, Messy, was my theme and I think I hit the nail on the head so to speak.
SBC Sketch # 425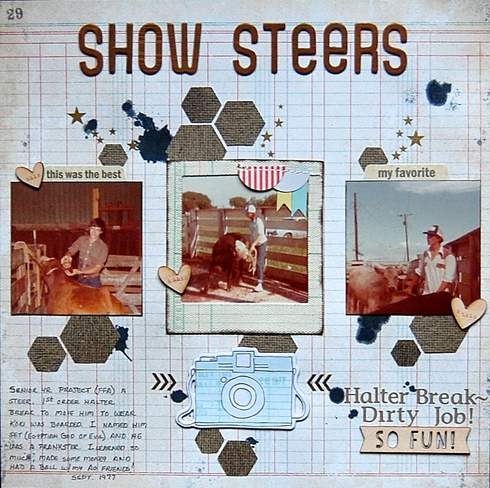 I especially love the Challenges for SBC! My first mood board challenge and one I truly loved! The colors and quote remind me of a spring thunderstorm in Central Texas. I had no photos printed of the multitude of photos I have of spring storms. I had one printed of a fall storm so colors didn't match. I really need a photo printer! Shifted gears and found a photo that seemed to pull me towards the mood board in the colors and eclectic nature of the sculpture and mood board. I spent about 20 minutes just studying this sculpture! Some older Heidi Grace papers were perfect!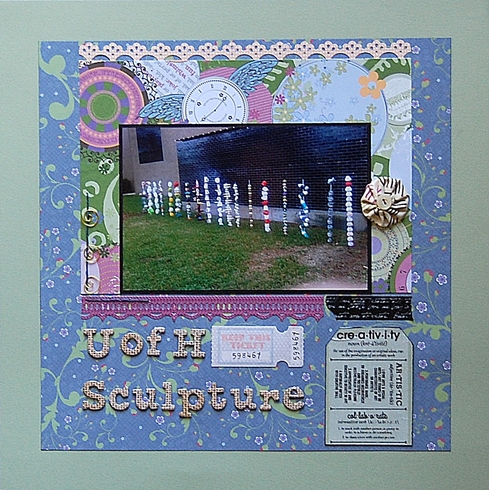 Now back to my table.....it's calling me! I am loving all the inspiration!