I literally had a disaster on my hands yesterday! I couldn't find anything I wanted when I wanted it to scrap with. My poor husband dealing with me not unpacking from a crop and stuff on every single available surface. All scrapping put up and I'm just itching to play!!!
I just needed to get this month's kit together when I finished cleaning for the Counterfeit Kit Challenge Blog. I have way more then I need in this month's kit!!! My goal two layouts with this kit. One to do my 4x4 example for next month 4x4 Challenge which I will start on as soon as I post my kit and the second one to go in Mom's horse album(s). I want the first album filled as a Christmas gift. If I have time this month then a third with a courthouse photo(s). The rest of the scrapping as I wrote yesterday is my Mother's Cruise album.
So here's the photos of my kit I call Explore. My life is a never ending exploration living on a farm. My job is never the same one day to the next. Then I get to travel more then one would expect being a rancher. We attend cattle sales, meetings, shows, field days. It may be a short trip or it may mean traveling over a thousand miles and there is always something to explore and discover. And then there is always that exploration into my love of scrapbooking. This morning was a Russian scrapping blog! With the help of Google the blog came alive for me. Some already translated, too. I smiled reading....as one has to really think since the translation is never in proper English. Amazing creative artists on this design team and I'm loving the sketch on this challenge blog,
Paper Dvizhnik Blog
.
Yes, I do have one of the papers from the Cocoa Daisey's Main Kit. Had to include it in my kit.
I have a little old and a whole lot new! The contents of my kit starting with the paper and some embellies: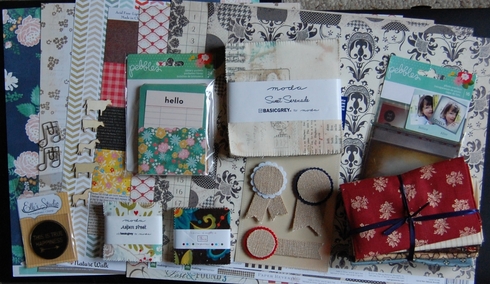 Making Memories Reverie Noir Paper: Dlicate Brocade; Pattern Dot & Ledger
My Minds Eye Lost and Found 3 Ruby Red Fan Paper
Carta Bella Hello Again: Hello Friend
Pretty Little Studio Nature Walk: Deer Tracks
Studio Calico Classic Calico: Botanical
Ruby Rock-it Nostalgia: Quilt
I know not many papers for the embellishments! I'm not a paper hoarder....but I need embellishments like crazy!!! And lately I can't seem to do a layout without at least having some Elle's Studio sitting close by! I HAVE TO HAVE lots of choices! And here's the list!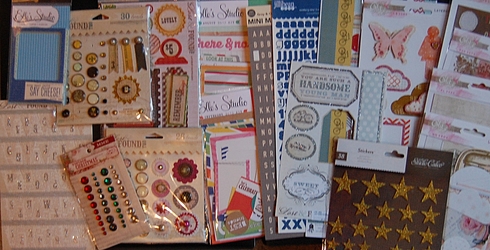 Lighting went bad and had to turn on the light....welcome rain falling at photo time!
Prima Lyric: Note Metal Clips
Brads: Lost & Found 2 "Blush" and "Sunshine Forever"
Lost & Found 2 Layered Chipboard "Rosy Love"
Lost & Found Glitter Alpha Stickers
Lost & Found Glitter Die-Cut Accessories
Elle's Studio August Kit
Elle's Studio September Kit
Elle's Studio Cameron Frames
Studio Calico Atlantic Stickers
Pebbles From Me To You Library Pockets (by the way definitely a bargain at retail priced)
Pebbles From Me To You Photo Overlays
Studio Calico Farm Animal Wood Veneers
Fabric: Bundle with no Manufacture, Moda Basic Grey Aspen Frost Mini Charm Pack, Moda SoHo Chic Mini Charm and Moda Basic Grey Sweet Sernade Charm Pack
Elle's Studio Stamp True Happiness
Fancy Pants The Good Life Boarder Stickers
Glitz Hello Friend What Nots
Glitz Hello Friend Paper Layers
Glitz Hello Friend Peek-a-boos
Glitz Hello Friend Title Stickers
Glitz Hello Friend Layered Stickers
October Afternoon Mini Market Gray and Cream Alphas
Jillibean Soup Alpha Beans Newberg Navy
Not Shown:
Quickutz Zoe unicase alpha dies & cardstock scraps
All of my 6x6 Stencils
All of my inks, Art Anthology Paints and mists! Can't live without them!
Now I'm good to start scrapping today! Whoop! Hopefully first layout done this evening!!!
:-)
Until Next Time!