I had an OMG moment this morning finding out I made the Fab 5 again this month. I am so humbled as the layouts presented by participants are amazing! I've only had the time for one layout with this month's kit as I'm still madly working on Mom's Cruise Album! Her birthday is Friday! On top of that it's our second busiest month of the year at the ranch: Fall Working and attending three cattle sales (one online).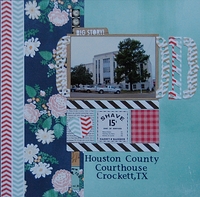 Thank you again!!!
I am looking forward to next month's kit!
If you have not participated in this great
blog
....consider hopping over to become involved!!!