.....that you would climb a set of stairs to seat yourself in an airplane? I don't have to imagine as I have. What a thrill to have three photos from the Glory Age of Travel by plane! Yes, I remember when we had to get dressed as if going to church to fly. As well as to have pampered service which doesn't exist anymore unless you fly 1st Class!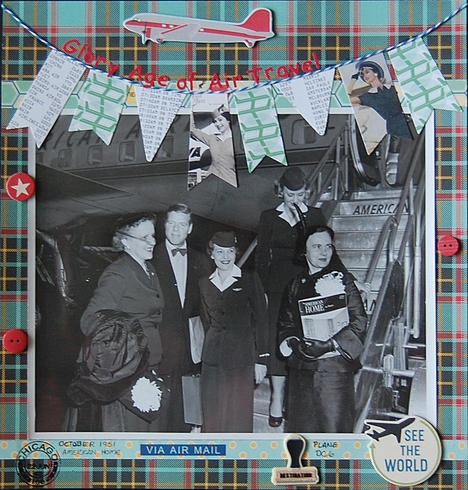 Yet to have three 8x10 photos taken of some of the staff of American Home Magazine was an incredible treat to find in my grandmother's files. Some how to have a professional photographer take the photos and not have one of them with everyone looking at the camera and smiling is beyond me. This is the first one to scrap. Definitely staged as my grandmother's coworker is holding an American Home magazine in her hand. I really wanted two things from this set of photos was to date the photograph as it was unusual to for my grandmother to not date the photo on the back and figure out what the model of aircraft. The magazine was my ticket. Off to eBay I went and found the magazine, October 1951 issue. Then because I have brothers who are commercial pilots I had to figure out what model the airplane was. LOL....they would be impressed their sister knew. A little more difficult piece of information to figure out the model. It definitely was not a DC3 as the chipboard piece at top would lead you to think. Studied back and forth between mounds of photos of DC4 and DC6 aircraft to decide finally the plane was a DC6.
I died inside looking at the title....off center! Then I realized the DC3 was off center too! Darn plaid papers and not using my mat to center things. As I looked and looked some more I was a tiny bit more happy with how it turned out. Planes fly into our view and as quickly are out of view. Works for me! But still not happy with it. At some point I'll get to scrapping the other two photos but just wanted to share this one right now.
I also used this layout as my example this month for the
Heritage Challenge
over at
A Cherry on Top
. So stop by and have some fun playing along with us and the Challenges Hosted! As always there are some great challenges hosted.
Now off to scrap for the rest of the day!