My search for papers for this month's kit actually began last weekend. Lynn and I went to Waco for lunch and it had been four month's since I have been to
Crop, Paper, Scissors
. Love this small quaint store! I love not having an overwhelming number of choices. I was thinking so many kit clubs usually have gorgeous fall colors! So I picked up some things I thought might fit the bill. I was delighted to see
Jenni Bowlin's Kits
yesterday!
My kit as usual came out totally top heavy in embellishments so it's huge!
I have struggled with the name but decided on Mother Nature in honor of all the wonderful things that catch my eye at the ranch in the fall! I don't get the color of the north but love the beauty in our Texas Fall! And maybe another courthouse! I was able to photo two more courthouses last month, Young & Throckmorton Counties. Usually lots of green if we get early fall rains as we have this year! We should have our first freeze by mid month though!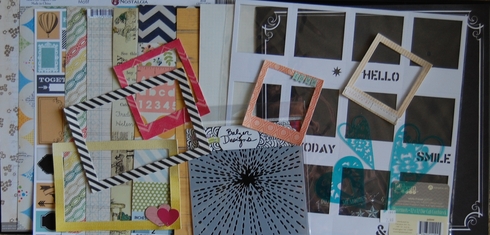 The colors I chose aren't as deep but certainly I was pretty close to the colors in the kit. I started the kit with Jillibean Soup Polaroid Placemat which I can leave white or color with ink or mist. I have paper(s) from Teresa Collins Memorabilia, Studio Calico Clasic Calico (didn't use last month so kept it for this month), Ruby Rock-it, Echo Park For The Record , Fancy Pants Collecting Moments and Pink Paislee Portfolio! The choices are part of the old scrapper loving earth tones and the new scrapper that wants bright colors.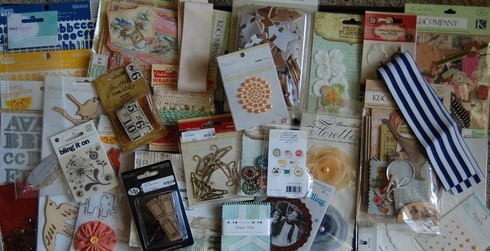 From there as usual I just went wild with embellishments from Vintage to new! Washi, canvas, burlap, trinkets, frames, cloth, wood, and more! I'm loving the embellies for this kit! I have some ideas running in my head of some layouts so I need to upload some photos to print! I think the first thing that came to mind as a must have when I saw the kit was my brand new still in Package Glitz Roller Doodle Floral Stamp! Most of my flowers are at the ranch....sometimes just plain tough to have two homes and your supplies are split between the two!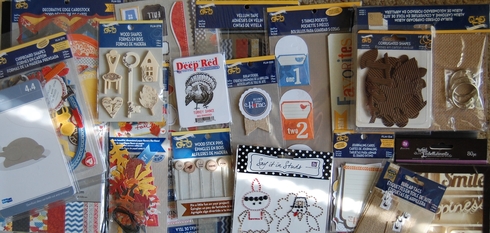 I also found two mini's on the kit page at Jenny Bowlin's and as I progressed through the hop some of the ladies will be doing mini's this month! I have three to do this month so out came the entire line of Little Yellow Bicycle's Feels Like Home line plus a few added embellies! Christmas Presents for my Mother and Brothers this year. I call it Thanksgiving as it will contain last year's photos of our Thanksgiving together! Fortunately it will be assembly line fashion! I probably won't finish until next month. My brother's don't live close by so they have to be done by the 10th of Dec. I also love love the pie chart stencil and sadly I don't have one but chose a trio of hearts for both kits and Crafter's Workshop Mini Burst keep with a round pattern.
I apologize for the sunlight rays coming through the blinds! Beautiful partly cloudy day!
Of course all of my inks, mists and Art Antholgy Paints are a must have and not shown! I also might switch between the two kits!
If you have never tried this challenge I encourage you to do so! In just two months I now can just grab papers and go with a layout. Something that took me hours of stress to decide! It is one of those humps I just couldn't seem to conquer! Now I have thanks to
CKCB
! Thank you!