I truly love the rural courthouses of my state. Throckmorton County is located in just west of the Palo Duro Canyon. The county has a population of 1,641 in the 2010 census a decline of 209 people since the 2000 census. Throckmorton is the County Seat. The population is 828 down from 905 in 2000 census.
Cattle, Cotton and Oil make up the economy of the county. Some grains also are grown by farms/ranches.
Larry and I were in Throckmorton to attend the RA Brown Ranch Dispersal Sale in October. This gave me the opportunity to add two more counties to mark off as having photographed their courthouses. I decided to work immediately on the photos of Throckmortion County Courthouse.
Already undergoing renovation the Courthouse Annex is completed. One can visit
Facebook
to view what the renovation to the courthouse will look like. I am thrilled to have taken photos of the courthouse before renovation. Right now the courthouse stands empty waiting for the renovation.
With most of the family tree complete for both sides of the family I am reminded I have very easy life in comparison to my ancestors. When Larry pulled into a parking place the first two things I saw was a park bench outside a business and a sculpture. I was enthralled by the sculpture before me. How many times had I done exactly what this women was doing. Too many to count. Has life changed that much for a woman who chooses to live a rural life. Not a lot except maybe for electricity. Our first home we built in East Texas was wood heated, no central heat. I split more wood then I can even begin to think about. Our new home we build at the ranch will have both central heat and wood heat. Electricity is fickle and dies at the first site of wind or thunderstorm.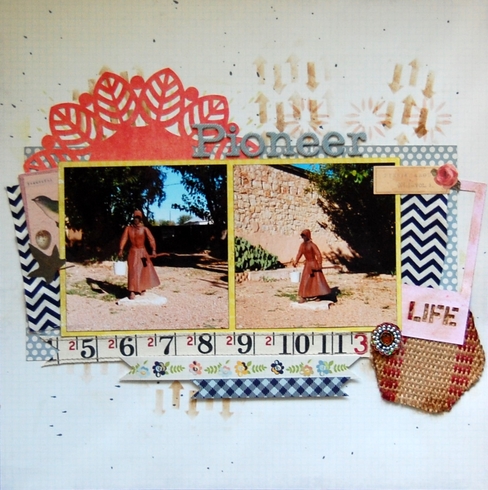 A bucket in one hand and an axe in another. Her chores never done.
I'll be working on Throckmorton County Courthouse photos over the next few months.
I'm using this layout as my
CKCB Challenge #2
entry. I had to change the color of something on my page. I change two things. My base paper is the "B" side of Fancy Pants Collecting Moments Inch by Inch is a graph. I took three stencils to change the color of background using my Tim Holtz Distressed Inks. Most of the Micro Burst Stencil is covered but you can see some of the green rays around the doily. I also chose to use Crafters Workshop 6x6 Chevron Arrow Stencil. Finally I took the CM Petal Multi-Maker Punch and made my own stencil with the results seen in the right above the photos. Thought it gave a nice southwest feel. A few more splats of Slate Glimmer Mist around the page and my background done. From there I took the Jillibean Soup Poloroid Mat. Took the "Life" Frame and went from white to aged pink with Vintage Pink Glimmer Mist and Vintage Photo Distressed Ink. You can see a close up of the layout
here
.
Stay tuned.