I usually just fall in love with
Elle's Studio
Sketches. Why I have never used one until yesterday is beyond me. Enter Pinterest! I didn't get Pinterest to the point of a "Why?" Finally got talked into opening a page with the ladies at ACOT! I still don't get "IT", but I have found one great use for Pinterest and my iPad. I no longer have mounds of paper for favorite sketches. I have a Pinterest Board for them. I also have found some great staircase storage ideas. Both Larry and I have said almost in unison that we want a staircase up to attic instead of those pull down ladder things. I guess it is our age. Great storage ideas for staircases. The staircase will be in the pantry. Now to look at pantry ideas, yes we will have a room for the pantry as I want to get into canning.
So the sketch I stored in Pinterest was this one from last week's
Sketch Thursday
.
Triangles....the newest "IT" shape!!! When it came to math in school the triangle was the coolest shape to study. The rules concrete the names exotic in my mind. Silly what we remember about school sometimes when you hit that 50 something age. I have the Spellbinders Isosceles Triangle dies. Need to get the Equilateral dies! I just loved this sketch.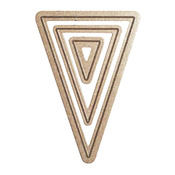 I loved the simplicity of this sketch, too! I also loved the arrow look to sketch! I found just the photo in my mind to use. Once again I turned to one of my mother's photos of "Zu" to scrap. A head study. "Zu" had one of the most exotic Arabian heads I have ever seen. As she grew older it just became more exotic. She gave her head to her son Zuby who now is a grand old gentleman in our pasture. I wanted the layout to be simple....to draw you straight to the photo and I feel I accomplished just that!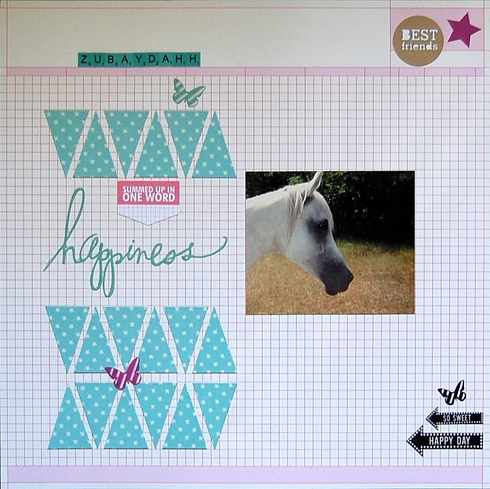 One of the very few photos my mother took that I loved. Zu is beyond happy in this photo. Her best friend is there admiring her, my Mom. A little Glitz, Heidi Swapp, and Elle's Studio! Love it!
Thank you for taking a peek!
Until Next Time!