I love wildlife and our cattle. I either don't have my camera with me or if I do the animal I'm wanting to photograph is gone if wildlife. I also love photographing the cattle. My camera is full of photos. Getting that perfect shot is next to impossible. And I get three or four dozen of those perfect shots a year.
This post was spurred on by Sketchy Business and Counterfeit Kit Challenge Blog April's Challenge #3, Big Titles. Thank you so much for the inspiration this month at
CKCB
!
My first layout is Challenge #3, at CKCB and using a sketch from
ACOT's
April's Pet Challenge. But the end result is nothing like the sketch. I loved this challenge but didn't choose any bold alphas to use this month. What I did put in my kit which I love was Amy Tangerines Bold Word Thickers. I also had this picture printed in like forever, a photo of one of our bulls at the ranch, Key Wooden Pickle 901W as an 18 month old. These pictures were taken right after his purchase as we do all of the cattle. Stored in our database should any of our cattle be stolen. We don't treat our cattle like pets, they are just too big and can be dangerous. Any livestock are dangerous, including pigs, sheep and goats. Their low center of gravity can do some damage to knees. Bulls are a given if agitated. But that cow is even more so protecting her calf. I've watched a 2400 lb bull of ours with no horns toss a 2000 lb round bale right over the fence you see in front of you in the layout like it was a rubber ball. He wasn't mad, just showing off his strength to a bull on the other side of the fence. Sometimes they just do it to be whatever with no other bovine around. It's kind of like watching the males of our own species and the "HE" man stuff they do around their buddies. Not much difference between the species in that regard, males love to show off strength of character. So meet Pickle at 18 months now a mature handsome bull. The ....to be continued... title comes from him out on lease for two years and returning last year with his first babies arriving this year for us. It's always fun to see new calves and the hope it brings the genetics matched up right to produce that next special bull who will then pass on his genetics.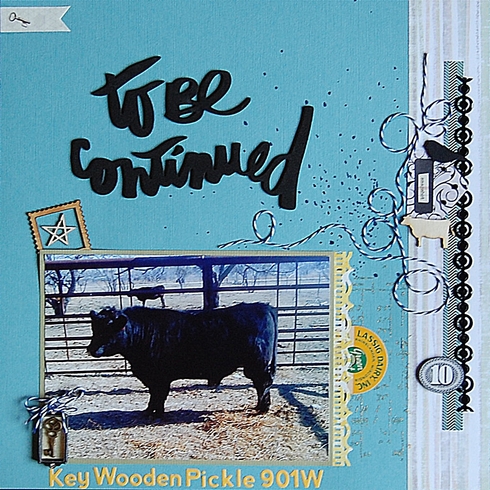 I love sketches and the next layout includes one of those rare times where in the dark you capture your subject dead center in each photograph. This photo was taken near our Houston are home last November. James was unloading groceries and had gone out for another armful. He startled an owl on his second trip who had landed on the rails of my X-terra. He flew to one of the pines by the garage. He comes gets me and two very careful steps out the garage door and I have two pictures of the first Barred Owl I have ever seen in my life. For this very amateur bird watcher it was such a treat. I used the Sketch Leslie chose Creative Scrappers #251 for
Sketchy Business at CKCB
. Circles are definitely one of my favorite elements as in my world I deal with circles all of the time on the ranch. The circle of seasons, of birth and death, or the weather cycles. They provide a very great continuity to my life which I love.
And the result!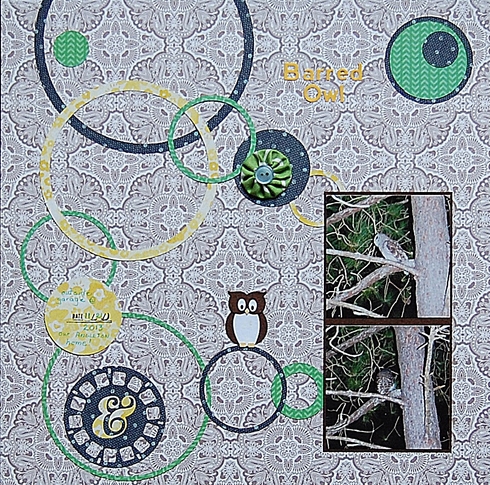 Thank you for taking a peek and have a Blessed Day!
Until Next Time!