How delighted can one be to be inspired by Pocket Pages or Project Life as many scrap in this style!!! I started PL this year. Before starting Project Life this year I scrapped my first PL style albums with my Parent's New Zealand Vacation photos back in 2008. Now I am also working on my Mother's and Grandmother's Alaska Cruise Album. PL and PL Style Albums are supper fast and so easy.
I almost jumped for joy when I saw this challenge. Perfect to do the third page in a series of photos Mom took of Zu and her son AC. I can and sometimes do a double page spread, but I much prefer to a single page at a time for double page spreads. Last year I did the first two pages. The last one still needed to be done and this Challenge was perfect.
As written from
CKCB Blog ~ Challenge #2
: Pocket Page Inspiration: Use a 3x4 or 4x6 card (does not have to be a pocket scrapbooking card, can be cutdown from your own paper) on your next project. Use it as a sentiment on a card or as a layering element on a layout. You can also bind a bunch together to make a mini album.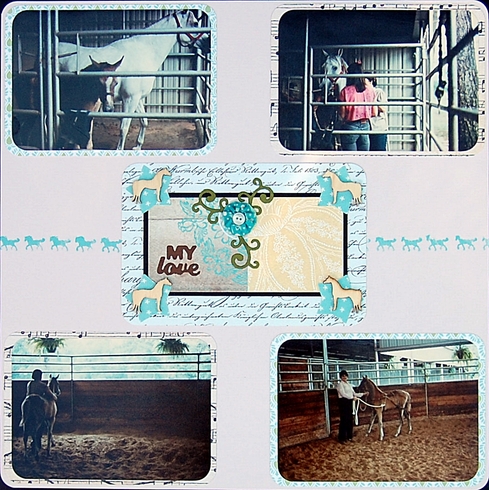 My 4x6 card turned out to be both title and journaling card! No journaling as these photos come from my mother's horse album. I love love the Studio Calico Farm Animal Veneers. To my delight the silhouette veneers are of Arabians!!! I also made a Yo-Yo for this layout for something Puffy in the CSI Case File #122 Evidence. The Roller Doodle Stamp was just too much fun with a little Prima Chalk Inks.
Yes, the layout turned out to look somewhat like a pocket page, but the first of the three layouts was actually a sketch challenge last summer at ACOT to scrap a Becky Fleck sketch. Second layout below is one to match the first and of course the above makes the third.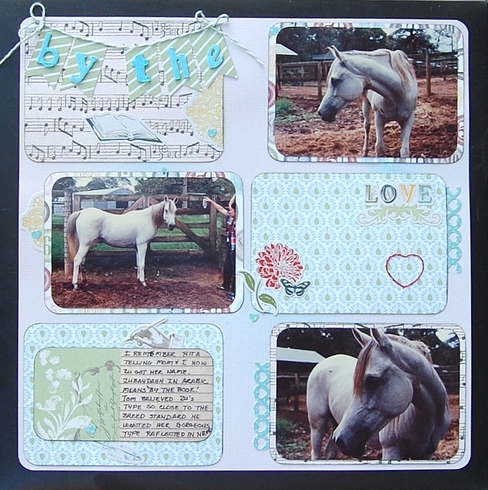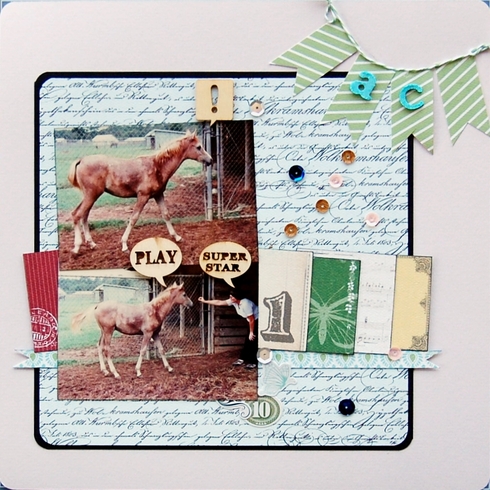 Thank you for taking a peek today at my blog.
Until Next Time! Have a Blessed Day!