...absent from blogging! But I've also been busy as a bee! Ranch, Houston Livestock Show and Rodeo, seedstock cattle sales, scrapping and a host of other things.
What great fun I had building my kit. I promised my self once again I would keep it small. Are you kidding! Yet again very embellishment top heavy! But oh....I ended up loving the colors and choosing embellishments from the list. I didn't quite have the same colors of green in the pallet but I still love how the kit came out. Will I kill the kit at the end of the month. Probably not. But lots of room in the kit to do layouts, cards and Project Life. Yes, I decide to scrap this year's photos via PL style my way. My way is both pocket and 12x12 layouts as well as taking photos when I want to take photos and not bound to a weekly layout. I also allowed this kit to let me play with some of the other albums I'm working on like my mother's horse album, heritage album and ranching photos.
Meet my April Kit: Spring Fling
Lynnette gave me the idea to hit my scrap box and I put scraps together from Carta Bella, Webster's Pages and scraps from long ago via Creative Memories.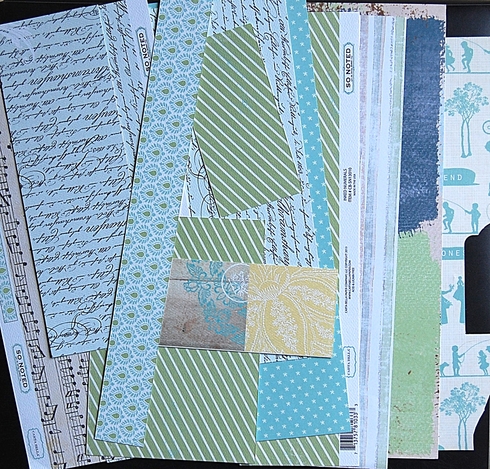 Then off to the Cardstock for the kit. Oh yes....got to use up that old die-cut cardstock! Added some more Bazzill and Carta Bella. Also a great way to display the stencils, washi tape and the 2x2 pack of Moda Simply Style Fabric squares that will be used for something puffy!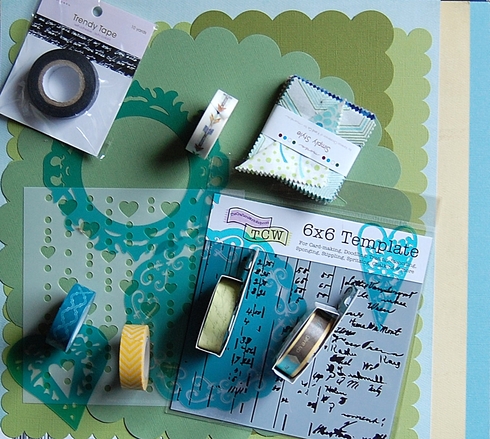 Then on to my Pattern Papers. Oh my what an eclectic set! Full pattern papers from Carta Bella So Noted as some of the scraps are from same. Other manufactures include Basic Grey, Elle's Studio, October Afternoon, Webster's Pages, Bo Bunny, Crate Paper, Basic Grey, Amy Tangerine, and Fancy Pants.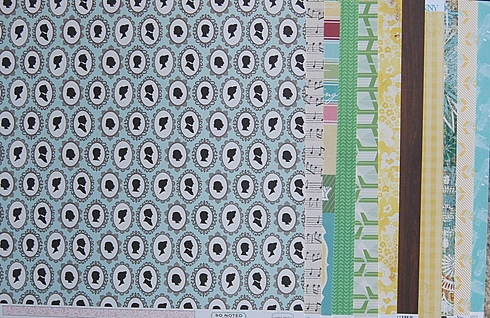 Oh lets start off embellishments with stickers and alphas and stamps!!! Also a great way to display a pocket for journaling since I get so frustrated trying to die cut vellum. Also included something pleated....navy seems to be the new "IT" blue this spring. LOL...don't machine sew as my fingers and sewing machine needles don't like each other! This pleated cloth came in one of my Paper Bakery Kits.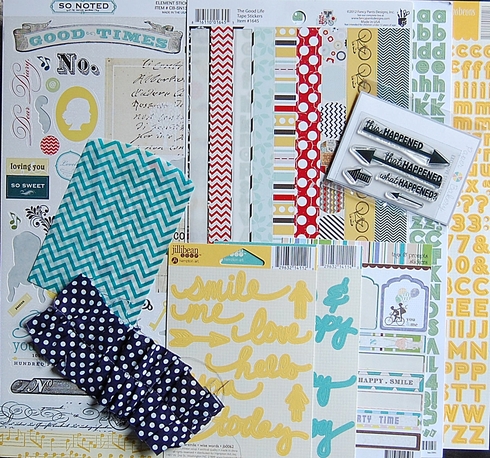 As I said very top heavy on embellishments! LOL....they do fit in one medium wicker gathering basket along with my Simple Stories Oh Snap cards and still room to spare. Now the colors not in the pallet won't be used except for that wonderful "Lovely" word! I do reserve that one word and the neutrals in the various embellishments!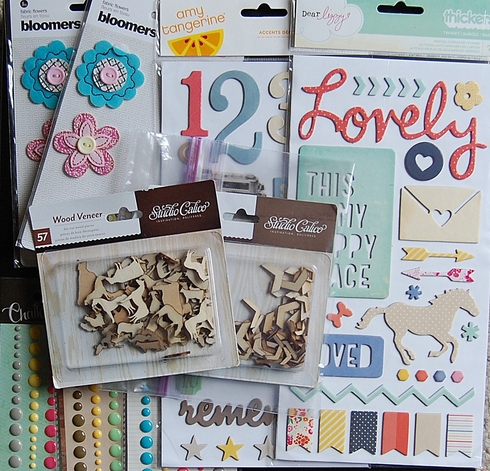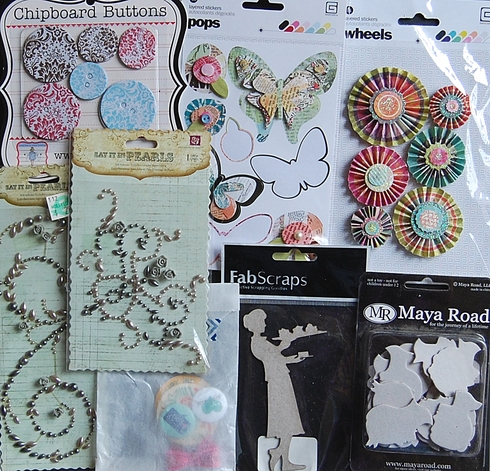 And finally not shown but can and most likely will be included: One embellishment from Jillibean Soup Corrugated Shapes Words I found looking at me on my scrap table after I took my photos. I also include all of my Black and White Bazzill Cardstock, Dies, Inks, Mists and Art Anthology Paints!
Yes, Spring has sprung....calves are growing in the pasture playing calf games, the Texas Wildflowers are blooming and we had our first round of severe storms last week and more storms today into tomorrow. Already have photos of a wall cloud last week!
We head for Ft. Worth for a meeting with Ft. Worth Livestock Show and Rodeo to see if they will accept the Lowlines into the show next year! Keeping fingers crossed they go in as a beef breed and not specialty breed. Kids are keeping fort at both houses on Friday so look for my first layout next week with my kit!
Until Next Time!