After I wrote my post yesterday I dived in to make my first kit for
Counterfeit Kit Challenge
. I wanted it small and it turned out large. I'm going to definitely have to work on that item. When I started pulling embellishments is where I really went overboard...I do for every layout, too. But never seem to use all I pull. I also wanted to make this first kit easy for me. I started with one of my oldest Paper Bakery Kits almost used up. Then picked out some scraps and one full sheet from Carta Bella So Noted. Then came two full sheets and a Large Die Cut from MME Stella Rose.
I call it Courthouse Travel! When I do a layouts of the courthouses in my state I don't use travel paper or embellishments. I'm focusing on the courthouse and the inspiration it gives me. My inspiration came from the type of items in the kit. I don't do near the traveling I did before I was married, and now the kids are grown I sometimes make a day trip to photo some of Texas' County Courthouses. Other times Larry and I are off to attend a cattle event or visit a friend's ranch and we stop to see the courthouses along the way. There is an amazing amount of history and architecture in
Texas Courthouses
. I think this will make a perfect kit for my day trip adventures.
Here are the kits we had to counterfeit from Citrus Twist:
And this is my kit: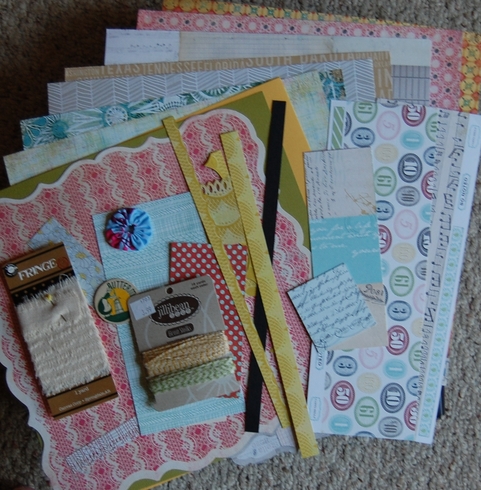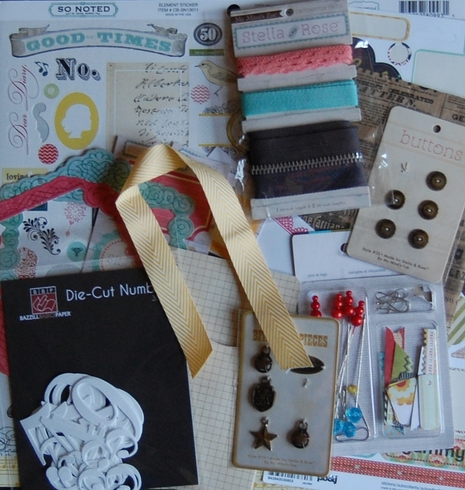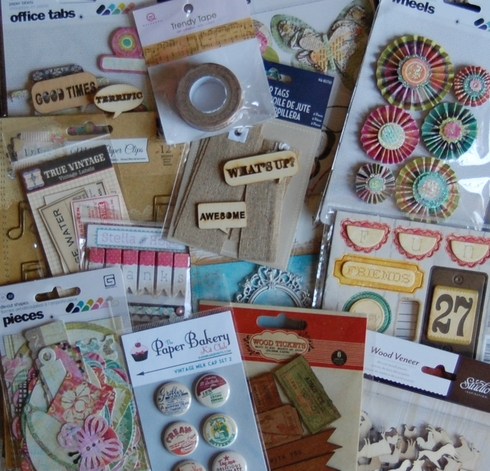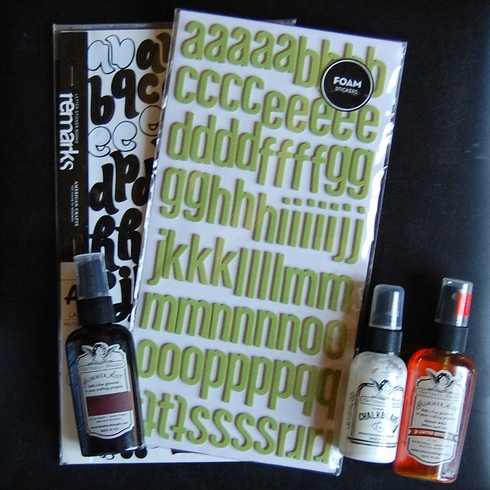 The only item not shown is Studio Calico Wonderland Fonts Mistables (alphas). I think they are buried in my Studio Calico Atlantic Collection.
Here's the list of Paper:
Bazzill Cardstock: Bazzill Celery & a Yellow I don't know the name
Studio Calico: Abroad 12x12 Paper: First Class & Somewhere
MME Stella Rose: Gertie Friends Forever, Hazel Lovely, Memories Woven Paper (large diecut)
Basic Grey: Sweet Threads Knotted Shirt; Out of Print Mish Mash; PB&J scraps from Toasted, Sunny Days, Raspberry Jam
Carta Bella So Noted: Script & Scribbles; Scraps from Inked Numerals, Musical Score, Dear Jane
I am a bit Embellishment OCD and actually pulled twice what I settled on! Here's the list!
Basic Grey: Sweet Threads Office Tabs, Wheels, Pieces; Out of Print: Pops; PB&J Cardstock Stickers, Miscellany
Carta Bella: So Noted 12x12 Sticker Sheet
Jillibean Soup: Bakers Twine Mustard & Olive
Washi Tape: Queen & Co. Trendy Musical Notes
Little Yellow Bicycle: Naturals Burlap Tags
Tattered Angels: True Blood; Chalk; Sun Sisters
Studio Calico Wood: Speech Bubbles; Farm Animals
Prima: Song Bird Collection Tickets; Shabby Chic Treasures Baroque; Musical Notes Clips
MME Stella Rose: 2 Frames, 2 Tabs Sticker Sheets, 1 Title, 1 transparency, Stars Trinkets, Buttons, Trim, and Layered Cardstock Stickers
Bazzill: Die Cut Numbers - White
Paper Bakery: Vintage Milk Cap #1, May Arts Yellow Chevron Ribbon, Simple Stories Folder, Vintage Milk Cap, Vintage Inspired Bag, Yo-Yo Flower
Jenni Bowlin Studio: True Vintage Labels
Alphas: See Above
I'm so looking forward to creating with this kit and playing along at Counterfeit Kit Blog!
Now to upload some photos for me to pickup tomorrow or Tuesday.