Yay! September is here and the heat will break sometime this month! My favorite time of year is just around the corner.....FALL!
I just have not felt like blogging! There is a new design team over at
Nuts About Sketches
. I made the decision in July to not run for another term. Yet, I'll still be using Shawn's sketches at times for my layouts!
I have gotten into PL style scrapping starting on my Mother and Grandmother's cruise in 1984. How I wish I could have gone with them. Neither one can take photos...but there are some good ones. My choice of Pocket Pages is from We Are Memory Keepers Multi-pack. Love them!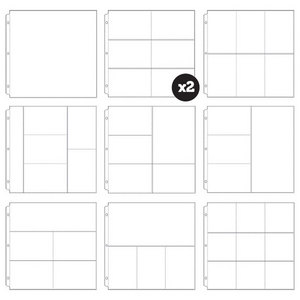 Of course I picked them up for
A Cherry on Top
! Here's a couple of Layouts using the pages:
One of my favorite photos taken during their cruise as my grandmother celebrates her 80th birthday!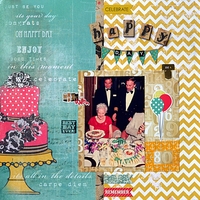 I offered to redo the album for Mom as the album is failing. It will be her birthday present in exactly two months. I'll probably share more this month and next. I also will be working on four minis for my family as presents for Christmas. Come to think of it I'm not sure I have even told anyone in my family I have a blog except for the kids and hubby. May have to change that after the first of the year.
One of the ladies on the message board at ACOT mentioned the blog,
Counterfeit Kit Challenge
. I made a mental note a couple of months ago but never looked for it. Towards the middle of last month after making the decision to sadly drop Paper Bakery Kit Club from November through Feb. I have made spent so much the last 4-5 months I just have to use what I have. In my journey of scrapping I have moved from stressing over paper selection on a layout to working within manufacturer's lines, to a kit club. Being apart of my first kit club has fully freed me from almost all of my boxes. I just have one box I will always struggle with....that analytic mind that is more comfortable with science and math instead of creativity. I truly think over the next 5-7 months I can reduce that stash while being inspired to make my own kits from within my stash. So I searched for Counterfeit Kit Challenge last month. I was totally confused and over the next two weeks I studied the blog! Happy to say I'm ready to tackle the challenge and have some great fun! Due to the cruise album and then the minis, I'm choosing to put together a small kit when I get bored with PL style scrapping this month. I'll post my kit tomorrow so stay tuned!