Challenge # 1 this month at
Counterfeit Kit Club Blog
is super great! That makes no sense but it really is great! I'll let you read it. But I did post about what my two unfinished projects were out of many! Well both done this past week. One finishes up a project....the other well not so much as I still have 238 courthouses to still take photos of. At least I have one layout down and completes most of what I want to photograph on the square in Huntsville, Texas. I have already finished the courthouse photos. The square is so much busier then when I was in school at SHSU. I need a Sunday morning before the students return from their weekend away to get a photo of the Cafe Texan sign.....yes that sign was there in the late '70 early '80's when I was in college. The sign is still there and there long long before I started my Freshman year in Fall 1978. But there is so much more to photograph around town that brings back many memories of my college days. Not to mention there is the historical significance of Huntsville being the hometown of Sam Houston. This is the layout of 11th Street on the north side of the square in Huntsville. I used my Courthouse Travel Kit to do this layout.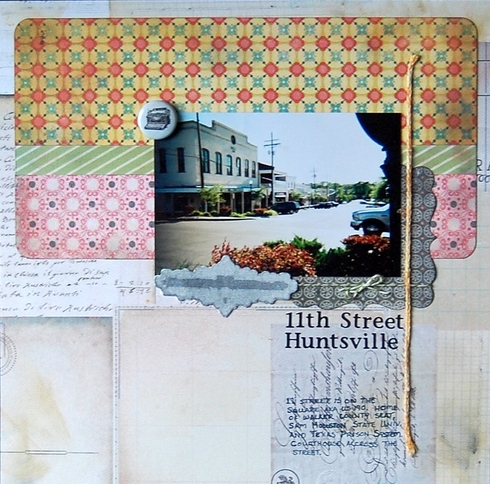 My next layout that I have been wanting to do for about six months is finally done! My mother took the photo of Lynn and James. Mom was her typical self with point and click without even realizing how the picture would look. Sigh.....but this Mom just loves it!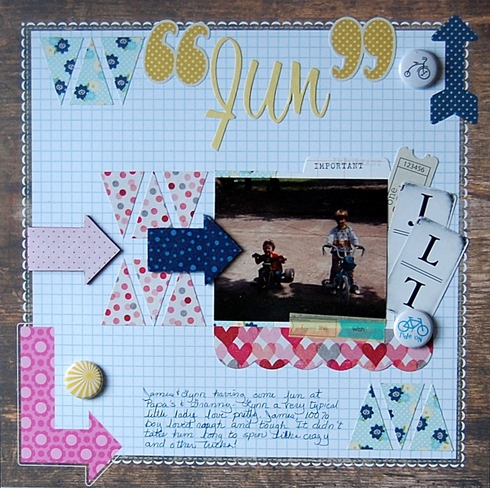 For this layout I used the CHA Bonus Kit and that wonderful Anna Griffin Barnwood Paper! I also drew some inspiration from this months Shape Challenge over at
A Cherry On Top
. Gotta love Triangles! I'm not sure I could use products outside the kit to count as just a regular layout on the blog, but I can for the challenges. I also used some products outside my Courthouse Travel Kit to do the layout above. This completes that project I have wanted the perfect paper as the base and some fun embellishments!
I have so enjoyed working with my kits. I can't wait to dive in this week with my kits! I'll probably work mostly with the Courthouse Travel.
Stay tunned!