I've had a busy last half of the month. I didn't get a chance to scrap last week at all! But I did get two layouts done today! So Happy!
I love love the courthouse photos I take. In July of 2012 I stumbled across
Nuts About Sketches
. The first post I read was a design team call. This was a layout I did using
Sketch # 224
just before I made the team. This is
Leon County Courthouse
before the restoration with a stock photo I found along with a photo I took after the restoration. The link above will take you to Texas Courthouse for another view of the courthouse before it's restoration.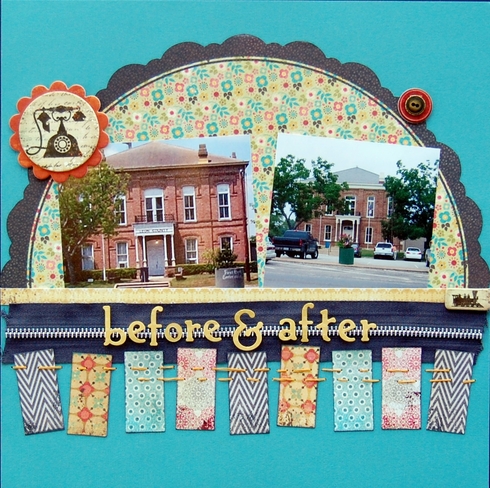 Then today I worked on the photos which lead me down the path to the undying passion I have for my state's courthouses! Larry and I decided to take a different route to his mother's house in the winter of 2007. As we drove into the square I was absolutely stunned at the courthouse. It looked absolutely horrible. Nothing like what I had seen the half dozen other times I had driven through
Centerville
. I had the camera and asked Larry to stop. I was a scrapper of six months when I took these photos! When Larry and I got home I found Texas Courthouses. As I started to read, then read some more as I looked at courthouses the passion began. Texas Courthouses was the very first website dedicated to our state's county courthouses. I think that is where the passion began on this website for so many who are now traveling Texas to capture the same photos I am. And there is a huge push to renovate those that need it as many are historical buildings. My love has grown as it's no longer just the courthouse that pulls me in as I visit them. It's the history and people I learn about as I read the historical markers. Each is a centerpiece of the county and each is a source of pride for the county residents. More so in rural counties in our state.
Tomorrow I'll get a better picture(s) and replace.
Unfortunately I didn't get it up in time to post it over at Counterfeit Kit Club Blog! That's ok, this one is done and once again I turned to Nuts About sketches for the inspiration, Nuts About Sketches #288. Used up more of my kit!!!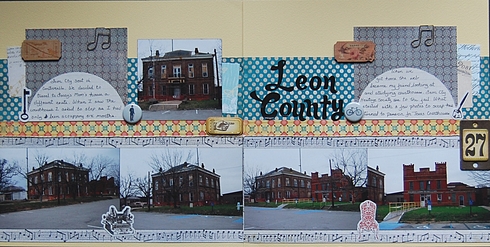 The next layout used the Bonus CHA kit. Well sort of.....just the Glitz paper as the base. Some of the items I pulled from the courthouse travel kit and some more items from special little goodies that arrived this month in my stash!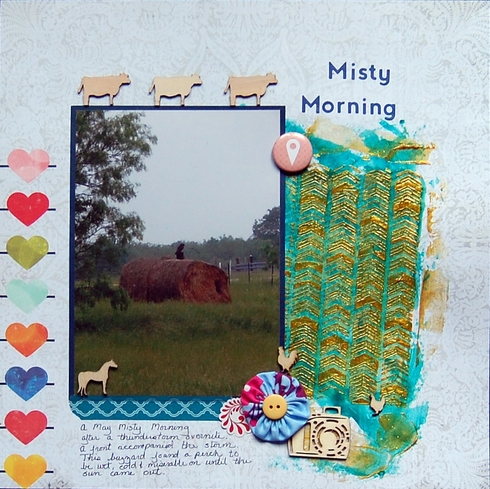 I started this layout two weeks ago and needed to fix it once my Art Anthology paint came it! Now I love it! It's a Misty Early May morning looking from the porch towards the road. Our round hay is stored in my two acre lawn and the post behind the hay has one wet cold buzzard sitting on it. We had one of those Central Texas Severe Thunderstorms accompanying a front around 2am. This buzzard was just waiting for the sun to come out. Of all the embellishments I have received lately I really love the Studio Calico Farm Animals. There are at least four different breeds of horses. I was so very thrilled they included the Arabian in the mix and actual cattle which don't look like Holsteins! We have all three species of farm animals on this page: Two Arabians, 200 head of beef cattle, 18 chickens and 4 guinea hens.
I think the thing I love the most about this layout is the Art Anthology Sorbet! What total fun to play with!
I came into Blogger this evening to find I had made the
FAB 5 at Counterfeit Kit Club Blog
!!! Wow, I'm thrilled! Thank you so much! I am humbled to be in such great company! Congrats to the other recipients!
Until Next Time!