It is truly fun to wave yet again at which ever number of agencies love to keep track of what we are up, too! Since my last post using the 'Zubaydahh's' name in a post I have seen a spike in page visits excluding some of those spam so called blog rating type sites. The two most recent are blogsrating.pw, filmhill, and topblogstories. Don't click on them rule going on for me....and checking by googling them first.
The New Frontier
blog has info on these and a good place to learn about safety on the net. Another spike as Snowden leaked about NSA. I'm taking no opinion either bad or good on this one on my blog as my blog is about my love of family, ranch/agriculture, and scrapping in that order.
What I will say is I have been a "security mom" since 9/11 and saw the horror on my daughter's face as she saw the towers fall for the first time. I want my children safe even though they are now mid-20's. So just one last thing I do worry about since the Boston Bombing. Are the various agencies sharing information? I get spikes every time I post Zubaydahh's and Ibn Zubaydahh's name. I've purposely left off their registration numbers from my blog to protect my parent's address. So guys looking into me.....the names have a double 'h' unlike the now deceased terrorist of the same name. Are you communicating who I am with other agencies.....dig a little deeper because that will fully alleviate any possible fears about me! Then by gosh share the information! Besides....I do enjoy being able to share my loves with the world! Not a single peep out of me about this from now on!
Now back to scrapbooking! The second thing to GET DONE is my mother's horse album. I cranked the numbers of layouts last month with this in mind.
A Cherry on Top
Becky Fleck Challenge is always a great sketch to use! There is usually two or three a month. I've participated in two or three since it started last year. This past month I participated in
Becky Fleck Sketch Challenge #44
of this challenge as well as entering it in the Moore Oklahoma Benefit Crop Add a Banner Challenge by Debbie Sherman. Carta Bella So Noted was the perfect line to use for this layout and the next layout of Zu's son. I did the journaling in hopes I could somehow have Mom understand how to tell her story with her beloved mare. To her photos only need a date and where. Not the why, when or how ever to be added.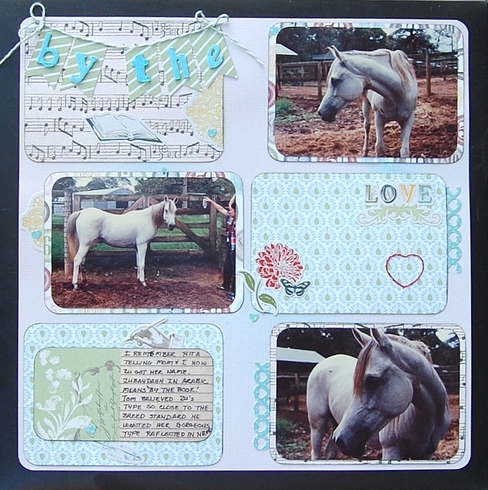 Even more fun I won the ACOT Challenge! The 1000 points I will put towards my Cyber Monday purchase is so appreciated!!! So join in on the fun!
Then I utilized my often used technique of making a double page spread without doing both at the same time and may not look at all the same but use the same line of papers. The next layout is AC about 3 months of age and photos taken at the same time as the photos of his mother in the above layout.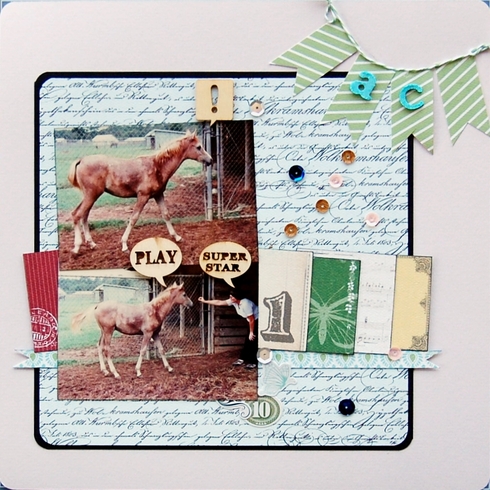 For this one I took my inspiration from another Juliana Michaels' sketch she did for
Paper Bakery Kits
. I love her sketches. I added the banner to again match Zubaydahh's layout!
This reminds me as I'm a member of the Paper Bakery Kit Club I need to take a look to see if the new kits are in. I love love all of their kits and wish I had time to get all three! A fourth kit is being added this month! Paper Bakery's website has a new look so definitely check it out. Love the new sketch for the first half of the month and saw it last week. But the blog has not made the complete transition so decided to post the sketch from
17 turtles
, Juliana's blog! More for me then ya'll but please enjoy the sketch! I love her sketches!
Until next time!