Whoa!!! I almost forgot I had to get this layout posted so I could enter it in
Imaginisce's Monthly Challenge
for July! I've had this layout done for a week!
Pictured is my Cavalier King Charles Spaniel Paige with my best friend and husband Larry. We use the mule to check on the cattle and Paige is my constant companion when I'm out and about on the ranch. This day Larry and I would be checking on the cattle and you can just see her head poking over the top watching Mommy take the picture. She seems to be saying, 'Hurry Mommy! Time to be Cow Doggie!'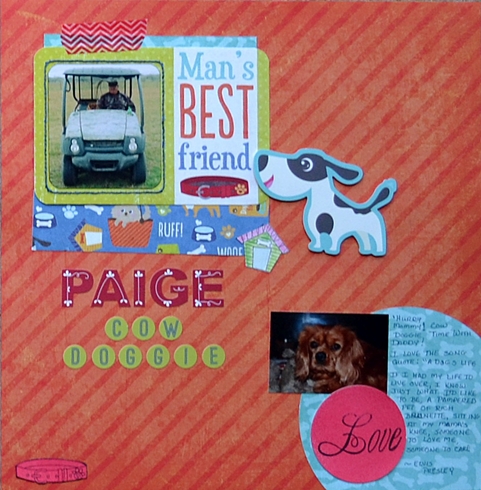 The 4x6 cut-out's on the B side of Doggie Mail Paper was perfect to use to display the photo of Larry and Paige. The dotted frame to be a journaling spot begged to be stitched in outline stitch to form the frame. Some Washi Tape from the Love You More Collection to make it all look like it was just taped to the page. I just couldn't resist using the Imaginisce stamps from the Good Dog line And their Love stamp from a couple of years ago The Dog House was painted using Zig Brushables to create my water colors. I couldn't resist using pink and green for Paige. For the collar and the word "Love" I took some mixed media paper and sprayed it with Tattered Angels Candy Apple Red Glimmer Mist. Once dried I stamped the images and cut them out. The red matches but the glimmer has a tendency to turn color on me when I photograph the layout. For this month Imaginisce had only the sketch with no other added rules other then you had to use Imaginise product. I love this sketch!
To make this even better challenge I incorporated the
Pet Challenge
at
A Cherry on Top
. I had to use a quote and chose the first Stanza of Elvis Presley's song 'A Dog's Life' in my journaling.
Great fun with this layout, thank you Imaginisce!!! Love your monthly sketch and challenge! And thank you to Sher who hosts the Pet Challenge each month!