I have been absent from blogging with a huge amount of MOJO going on when it comes to my scrapping. Even as I type I would rather be at my table playing with paper and glue. Next layout I'm thinking about is using Bo Bunny Anthem & Liberty to work with a photo of my mother taken on July 4, 1976. I also love love the
June Paper Bakery Scrapbook Kit
. Can't wait to play with it, too! Sadly already out of stock. But take a peek at the
Mixed Media Kit
and
Project Kit
because they still have some. They announced to members the reveal of their new website on July 15th! Looking forward to it! I cranked out 12 layouts since my last post that are posted on my gallery and finished another for next week's Nuts About Sketches post! I haven't had that much mojo in I don't know when.
Tuesday is usually the day I post my design team work for Nuts About Sketches and it's exactly what I want to share. The photos are James'. He took them with his cell phone while out in the Main Pasture at the ranch. Now why he would want to ride his KLR back there is beyond me. We have more thorns then you can even begin to count. Mowing the pastures as we don't use chemicals is the only way we control weeds. Small mesquite and prickly pear end up leaving thorns all over the ground. Fortunately no flat tires. The two photos Mom likes the most are the bottom two. This young bull calf is stretching in the left. He's just adorable!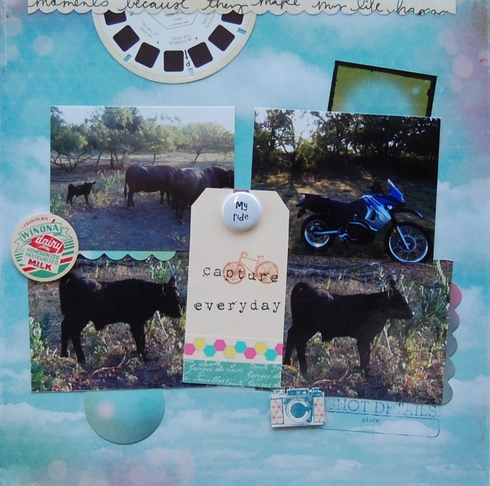 Here's the sketch for this week from
Nuts About Sketches
. Join in on the fun sketch whether you choose a single page layout or double page!