My favorite challenges without question are Heritage! For readers of my blog they know I have stated I have a ton of Heritage Photos from both sides of my family. In fact I have so many I gave my daughter all of the heritage layouts from hubby's side of the family to scrap. It's two full boxes of photos and I'm not talking small boxes jammed full!
I know I've written too, I host the
Heritage Challenge
each month at
A Cherry On Top
. Drop by and take a peek to see what the challenge is. Maybe to entice you just a bit is my example for this month.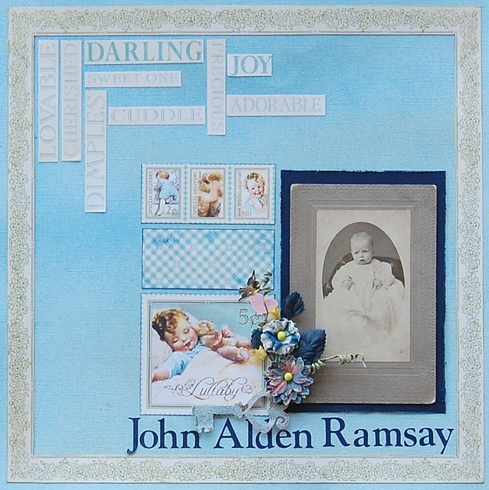 This is a photo of my maternal grandmother's brother John Alden Ramsay, known to my mother as Uncle Jack. The photo was taken in October 1900 at the Tobias Studio in Perth Amboy, NJ. He's three months old in this photo. I'm guessing my great-grandmother had him in a Christening Gown. He would have been christen in the Episcopal Church. For those into genealogy the answer is yes we descend from John and Priscilla Alden who came over on the Mayflower. If you wish to know more about the Alden's you can find that information at the
Alden Kindred
. Still need to get birth certificates so we can join! That to do list thing going on.
I used Graphic 45 Little Darlings collection and
Prima
Craftsman Flowers along with Gears and Keys Resist Canvas from Prima. I also took a very liberal interpretation from
Unscripted Sketches #216
. I loved my first use of a Word Cloud for the Journaling Challenge at ACOT!
I've really tried this past month to pick it up a notch and work to get more heritage photos done. Instead of one I did two. My first layout this month was heritage and hoping to do four!
Until next time!