This was probably the most fun I had with a layout in June.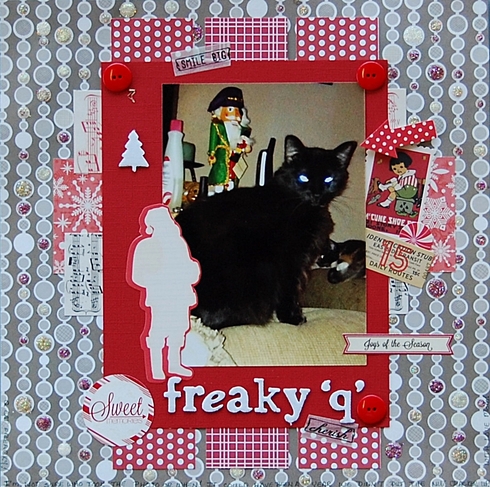 Christmas in June Challenge at ACOT
called for a monochromatic layout choosing traditional Christmas color. One was allowed to use neutral colors and you could have a hint of the another traditional Christmas color. You also had to have some sort of bling and the hostess of the challenge loved light strings. I pulled my
2012 November Paper Bakery Scrapbook Kit "Street Lamp"
out and when I saw the Classic Studio Calico Chain Paper I could imagine a Christmas Light Wall. From there it was easy to select the papers and embellishments from the kit Added some washi tape, buttons and a Chic Tag from my stash and the layout came together quickly. Then reached for Gold Ice, Cherry Ice and Diamond Stickles to fill in random circles on the Chain Paper. Oh what fun!!! Once dried I sealed the stickles with Glossy Accents. Since it had buttons it also qualified for the
Take 2 Challenge
.
Yes Q and that's James' cat's name looks a bit Freaky! Christmas Layout with a Halloween Layout Title. FUN!