I have to admit my very favorite layouts are Heritage! I know I'm being repetitive! They are though. I find I have come to realize what is heritage to me is not to others. As I have hosted the Heritage Challenge at ACOT for a year now, I have found Heritage usually means to a person is a photo of one's grandparents generation taken before they were born. At 52 years old I'm seeing Heritage photos of the late 70's and early 80's. That makes one feel really old! I was in college during that time, LOL! Last month I did a layout for
Nuts About Sketches #269
with my maternal tail female line of my great-uncle Tom (Thomas Moore Ramsay) at the age of 5. Of course like John he too will eventually qualify in the Alden Database of the
Alden Kindred

.
The photo was taken in October 1900. He is the brother to John Alden Ramsay the subject of my blog post
Heritage Challenges
last week. I just love how the layout turned out using
BoBunny
Timepiece.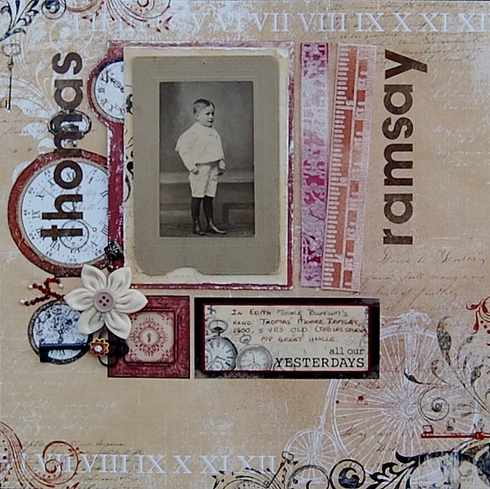 Of course the Tattered Angels Mist had to be used. I do believe the next layout is the first one in a very long time I chose not to use any Tattered Angels Products on a heritage layout!
The Socke Family whom I have never met is a photo of Uncle Tom's daughter Barbara, my mother's first cousin and my second cousin. She is shown here with her husband Hollis and daughters Judy and Joanne. The photo was taken in 1952.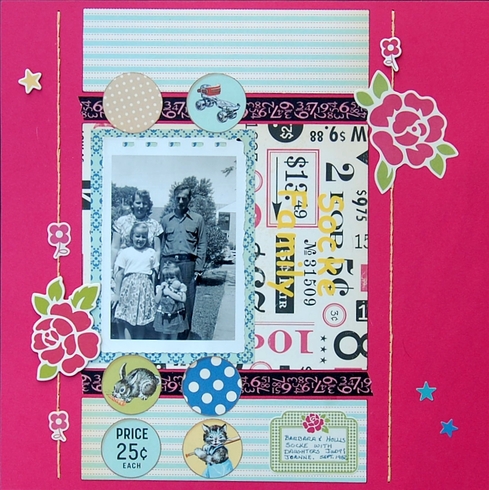 October Afternoon
5&Dime seemed to be the perfect line to use for a 1950's photo. What I loved the most when I added the Washi Tape, I found the numbers in the
Prima
Engraver's Tape would take the color of the cardstock with a slightly lighter shade. I should have known it would do so as the numerals are white and opaque, but still a pleasant surprise! I'm just really starting to get a collection of tapes together and learning how they perform on a layout! I also could have trimmed the top of the photo, but I find how photos are developed and presented are often part of the fun of heritage layouts! The way photos are presented change with the history how photography has developed!
Nuts About Sketches #273
is a wonderful sketch to use weather you want multiple photos as the sketch calls for or just a single photo as I used! Thank you Shawn for a great sketch to work with!
It's also always fun when one can combine your design team work with a challenge at your favorite scrapping community! This fit perfectly the
A Cherry On Top July 2013 Holiday Challenge
! So much fun to make any layout with the following 4th of July staple elements: Stars & Stripes along with a little washi tape!
Until next time.....