I am truly excited about Houston Livestock Show and Rodeo! More of our genetics are headed to HLSR under the capable hands of the Teague's! Larry was super excited when James' past Brahma show heifer had a gorgeous half blood bull, FJL Alabama 58/4Z! He is sired by RDM Megamark out of Horsegate 529. Robert called a couple of days ago really excited about Bama's (as he's called) visit to the vet for his health papers for HLSR at Gulf Coast Large Animal Clinc. Apparently several people were there with cattle for various reasons. There was a couple of offers to know what he could be purchased for. I wish I had a photo of this young bull to share as of this post. You'll have to wait until after HLSR when we have a show photo of him.
The second calf being shown by the Teague's is Miss FJL Got Clout 59. I knew from the moment she was born, the first person to show up at the ranch looking for a show heifer she would be snatched up. Sure enough she went home with the Teague's! Andrew was so excited at the 2011 TJLA Fall Classic when the judge gave her a hard look for Grand Champion against all breeds. What an honor for a Lowline to receive that nod. Their moderate size for many judges is just not something they can even begin to consider when shown against other breeds. Again I do not have a current photo of this dynamite Purebred Lowline Heifer but will after Houston. Yet I do have a couple of photos to share with you.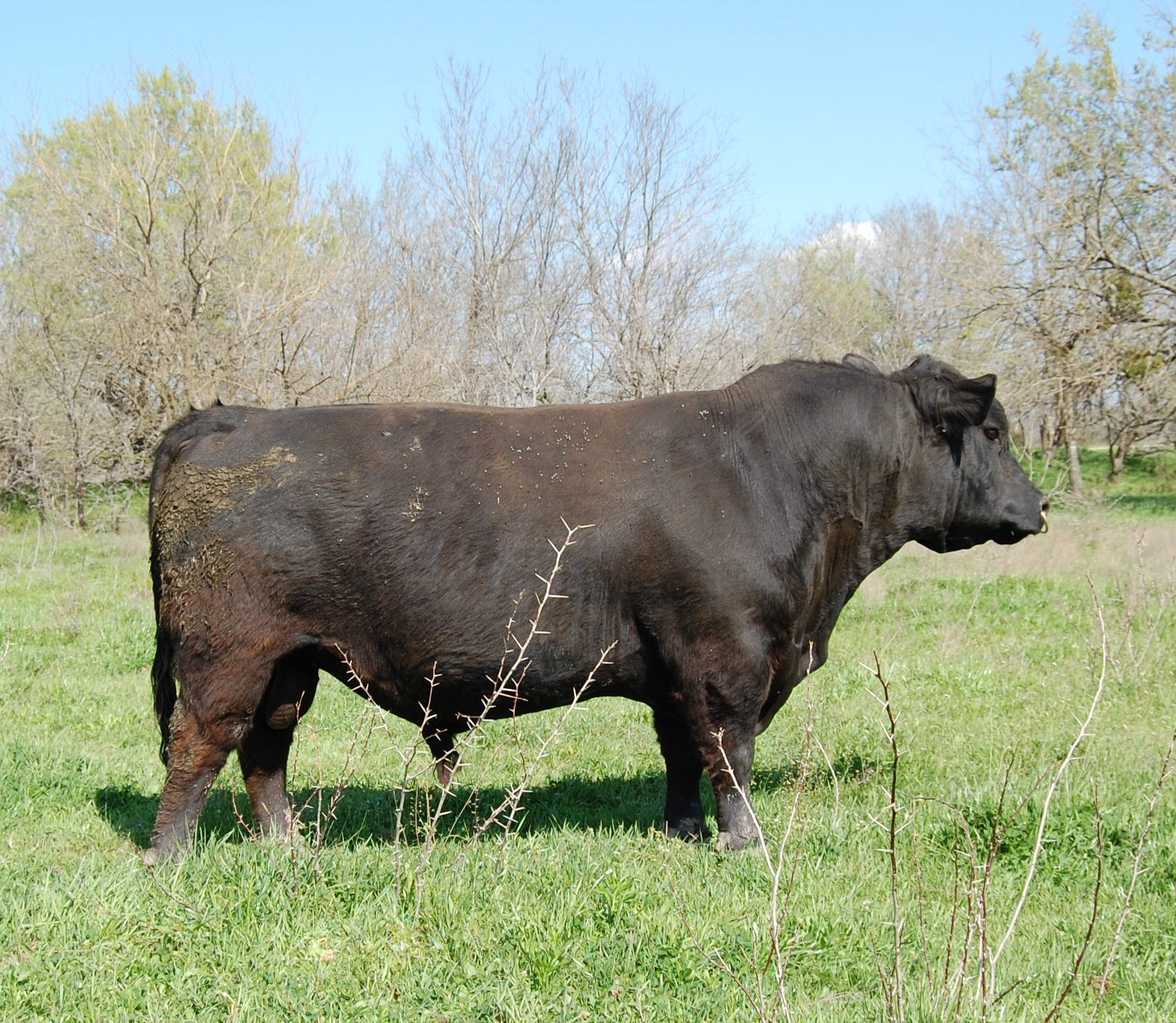 Above is our foundation sire LTL Peyton (LTL Dillon x Miss Jet's Rapheal 258K). Peyton is shown here at five years of age in March of 2010 as a 4 1/2 year old having only hay through the winter. He's correct in structure, wide, long and sires pretty calves with superior temperments. He's also a heifer producing bull to a rate of 3 heifers for every bull calf born. His sire Dillion is a National Champion Bull by the great bull, Nevada. His dam was one of the most prolific flushing embryo cows in the breed. It's easy to see why Miss Got Clout has the pretty feminine features she has.
I did a post on this layout a couple of week's ago. Miss Got Clout's dam is in the lower right with the other pictures her half sister. EZ Miss Clout 390M is sired by the National Champion Bull ALM Clout 27H who holds Registration #9. He is sired by the great bull Admiral out of a Quartermaster daughter. Miss Clout is shown here as a seven year old and at the age of 13 is expecting another calf this spring. She will be re-bred to Peyton this year. Miss Clout shows excellent longevity in the pasture, a trait highly sought after in the breed. She has excellent efficiency in the pasture always keeping her weight and produces loads of milk. We hope Miss Got Clout will show the same.
I personally would like to thank the Teague's for representing our genetics in Texas Junior Livestock Assoc. shows. Stay tuned for this heifer's show photo from HLSR.
Please stop by if your attending the Houston Livestock Show & Rodeo between Feb. 28th and March 4th.